*This post may contain affiliate links. As an Amazon Associate we earn from qualifying purchases.
It's the day you've waited for almost your entire life…
No, not your wedding day—your daughter's! Your daughter's wedding day can mean just as much to you as your own. She's taking the next big step in her life with someone who loves her, and a wedding is the perfect opportunity to show her you love and support her.
Of course, there's a lot that goes into the big day. You want to represent your daughter well, and to look good at her wedding. You don't want to look too good, though… There's nothing more cringe-worthy than the mother of the bride upstaging the bride herself. And going the opposite way is even worse—don't get a dress that hides you or doesn't do you any favors.
But how do you find the balance between nice and too nice? Elegant and dazzling? Maternal and elderly?
Fortunately, there are lots of designers out there who have worked to solve this exact problem. They create innovative designs that are elegant and mature, though not stiff and boring or that run the risk of upstaging.
We've compiled some of the latest and greatest mother of the bride dresses to show you what we mean. Below, we'll be reviewing our top seven mother of the bride dresses that will work perfectly at almost any wedding.
It's your darling daughter's special day—enjoy it without the stress of what to wear.
 How We Chose These Dresses 
It is our goal to provide you with as honest and accurate information as possible, presenting you with beautiful dresses that are also high-quality. We only list dresses that are made and distributed by certified designers and retailers, so you can fall in love with a dress that's actually real.
In addition to researching each individual dress, we also weigh customer and consumer response, to ensure that everything that's claimed by the dresses holds up.
 What to Look for in a Mother of the Bride Dress
Before we dive into this selection of dresses, let's first go over what exactly you should look for in a mother of the bride dress.
As the mother of the bride, you are a critical member of the wedding party, so having the right dress is very important. Finding the right mother of the bride dress, however, can also be the most difficult and delicate wardrobe choice to make. You aren't a bridesmaid, so you aren't restricted to wearing a particular dress or color, but you don't have the same freedom as a regular guest, either.
The most important thing to do is take cues from your daughter. She's the bride, after all, and what she and her partner want is the most important thing.
One of the best determinants to go by for your dress is to follow the general color scheme. So, even though you'll be excited and ready to go out and buy your dress the moment the wedding is announced, it's a good idea to wait until the wedding colors have been determined and the bridesmaid dresses selected.
Of course, you don't want to match the bridesmaids, but you don't want to starkly contrast them, either. A great idea is to select a dress in a related color that compliments the bridesmaid's dresses. For instance, if their dresses are a deep green, maybe shoot for a light mint green or the like.
As far as style goes, the general design of mother of the bride dresses are different than the average bridesmaid dress. For instance, most mother of the bride dresses are floor length are near to it, though there are some shorter dresses that usually fall somewhere below the knee. These dresses also tend to be prone toward having sleeves or an incorporated jacket or shawl.
Once again, though, what's most important is following your daughter's style guide. Dress as casually or formally as the wedding dictates, and try to complement the wedding party.
 General Price Range
You can expect to spend the same amount on a mother of the bride dress as you would on a bridesmaid dress, roughly in the ballpark of $100-$400. You can, of course, easily spend less or more than this, though this is standard for what are designed and marketed as mother of the bride dresses and meant to make their mark at a wedding.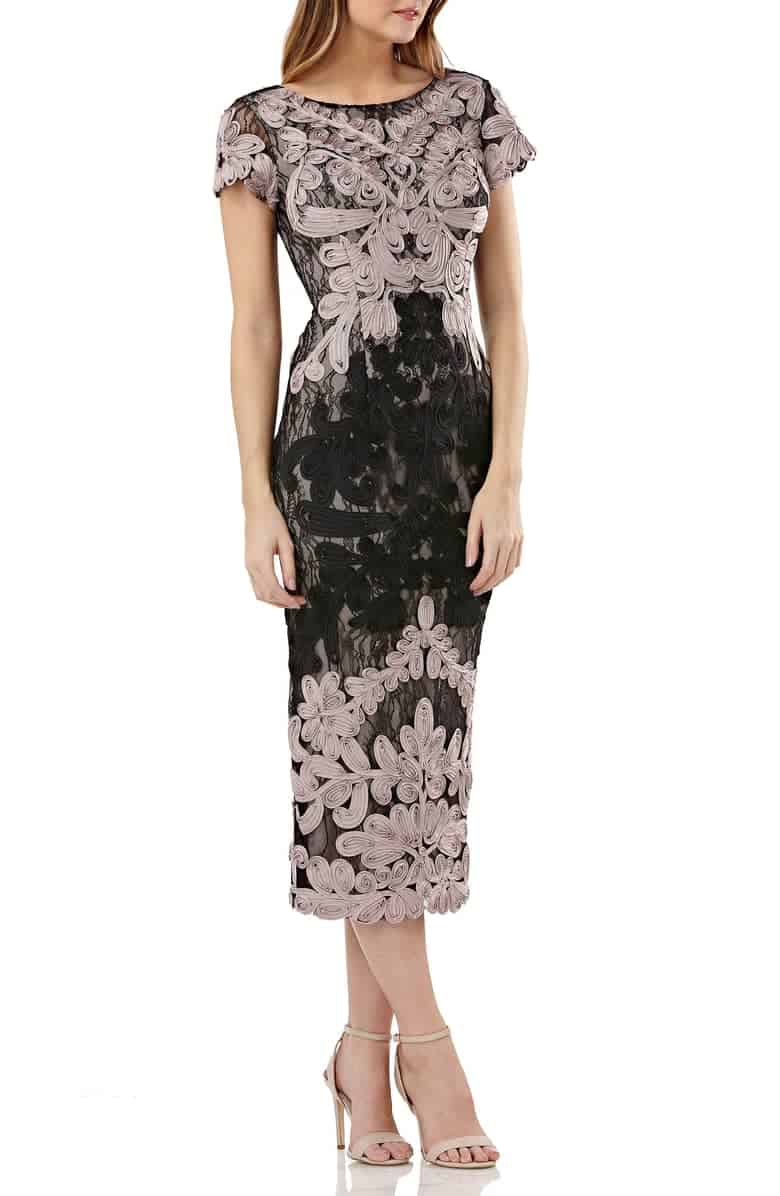 Let's start out strong: the Soutache Lace Midi Dress by JS Collection is definitely one of our favorites on this list, for both its style and its variety.
This is an elegant, shapely dress that will hug your curves and descend gracefully into a thin skirt that stops mid-calve. It has a high neckline that curves just below the collarbones, and short sleeves that stop shortly below the shoulders for a modest but stylish look.
The dress is made of a soutache applique that rolls over the bonded-lace foundation of the dress, creating swirling, nature-based patterns—a vintage take on a classic cocktail-style shape.
What is perhaps the best feature of this dress, though is that it comes in a variety of colors (listed below). Each dress combines two colors of the soutache material that intertwine over their lace canvass.
Colors:teal/grey, azure/grey, black/vanilla, cloud/navy, hot pink/nude, ivory/navy, ivory/nude, lilac/navy, magenta/copper, pink/sand, punch/mauve.
Available Sizes:2-16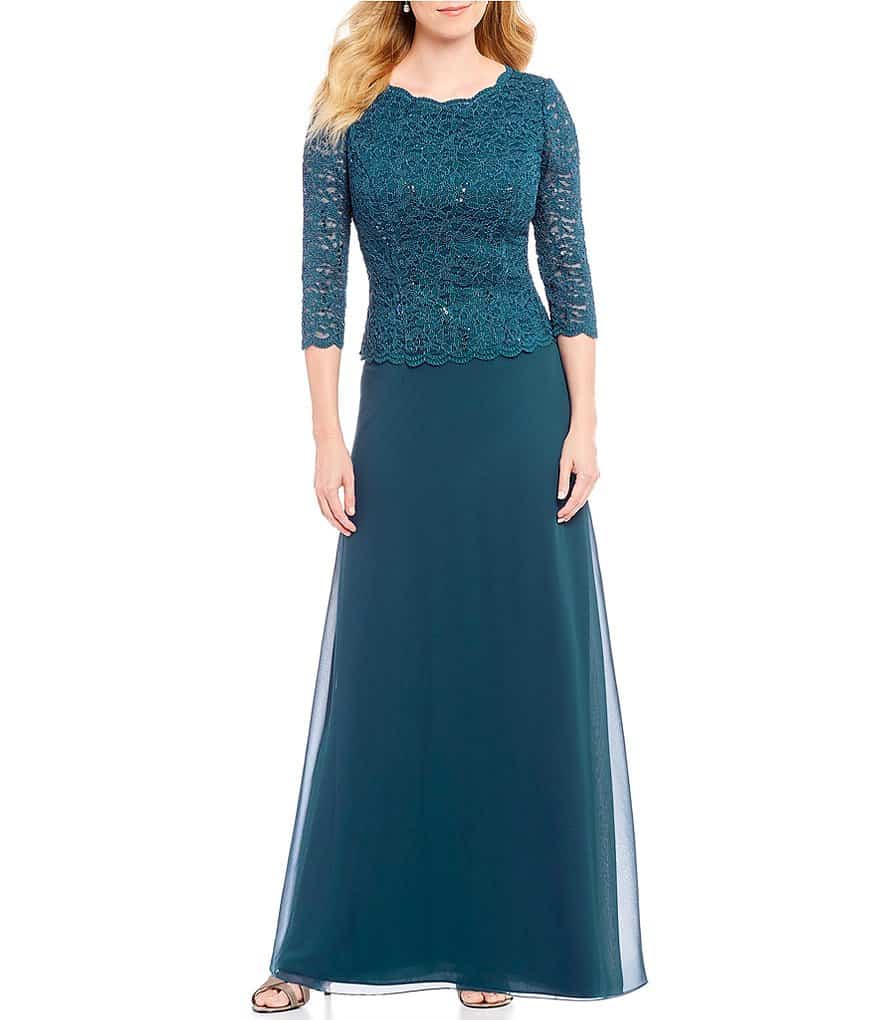 This dress's longer sleeves and floor length cut make it a perfect choice for a winter wedding. This dress features a sweeping chiffon skirt that starts at the waist and trails all the way to the ground. The top, then, is where things get creative.
The top of the dress features a fitted lace bodice that matches the color of the skirt, decorated with sequins. It has a boat neckline in the front, though the back dramatically turns down into an elegant V. The sleeves are ¾ length, stopping shortly after the elbow.
The distinct bodice material flowing over the top of the skirt make this a great dress for most body types, too.
Colors:Peacock, Deep Plum, Navy
Available Sizes:6-18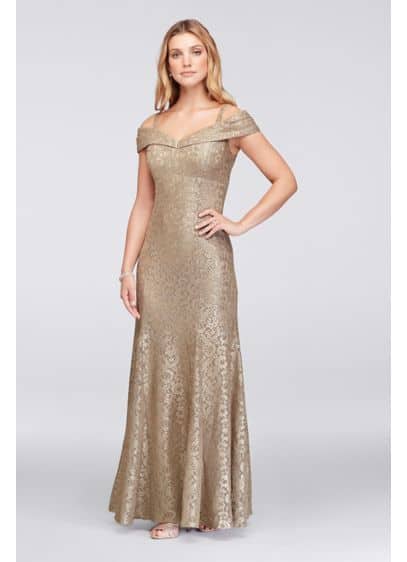 This mother of the bride dress is perfect for a formal wedding that is all about keeping it classy.
The design of this dress is truly elegant. It is a mermaid-style dress, the skirt flaring out in graceful folds from the mid-thigh. It features a cuffed cold-shoulder neckline—thin straps go over the shoulders, while thicker sleeves extend out of the neckline and onto the arms, leaving the shoulders bare. This style frames the chest in a soft sweetheart line.
This is a stretch-lace dress, so you don't have to worry as much about finding the perfect fit. The lace sheath cascades down in a near-floral pattern along the matching slip underneath. The lace is made from a shimmering material that will glitter under the lights of the dance floor.
Colors:Gold, Merlot
Available Sizes:4-18
[amazon box="B071P8LQTG"]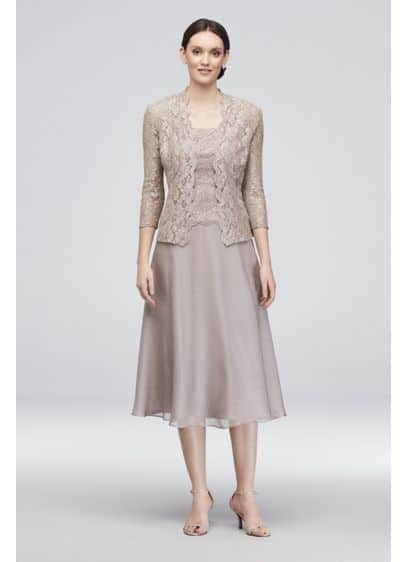 This dress is great for a wedding that is formal but not too serious about it, creating a standard of casual class.
This tank dress is one of the shorter we've looked at so far, extending just below the knee on a woman of average height. The top of the dress is made up of close-woven floral lace, a chiffon skirt flowing out from it.
A matching jacket made of the same lace material and pattern accompanies the dress, adding a level of modesty during the wedding that can easily be stripped away for the reception. The edges of the jacket are rimmed with a scalloped ruffle, the sleeves extending ¾ down the arms.
Color:Mink
Available Sizes:8-18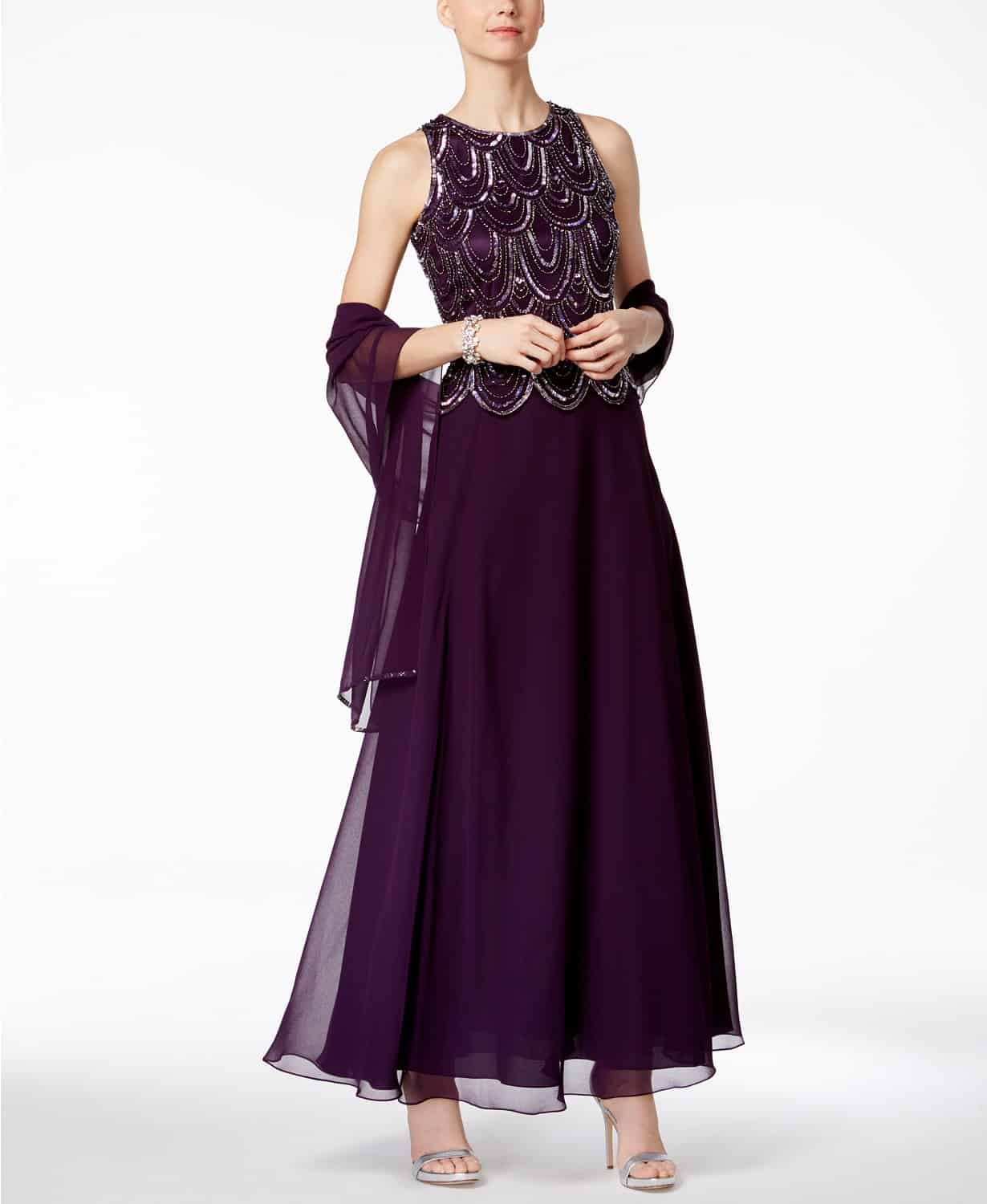 Like many of the dresses on this list, this dress is composed of chiffon skirt with a fitted bodice. Rather than a lace bodice, however, this bodice is instead covered with loops of elegant beading that wrap up and down it. This beading is meticulously hand-done to create the most refined look possible.
The dress takes the form of an A-line silhouette with a high neckline rimmed with jewels. The chiffon skirt trails to the floor for a classy look. Rather than a jacket, this dress offers a matching chiffon shawl to either wrap through your elbows across your back, or to wrap around your shoulders to ward off an evening chill.
Color:Plum/Mercury
Available Sizes:6-14
This dress is perfect for a wedding that aims to be flirty and fun while maintaining an element of class, and it will complement almost any color scheme. This is the only dress on this list that stops above the knee, making it a fun dress that will look great in photos and is great for dancing during the reception. The top is slightly fitted, the skirt extending straight-down in a loose pencil style.
The dress has a high bateau neckline and free-spirited flutter sleeves that hang loosely down to the elbow. From top to bottom, this mother of the bride dress is covered in tightly-knit sequins, so this dress is sure to dazzle. In addition to the sequins, the upper bodice and sleeves also sport a lovely floral beading pattern.
Color:Platinum
Available Sizes:0-16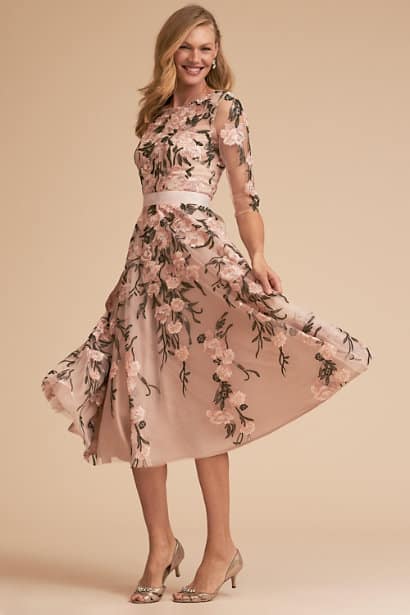 This dress is perfect for a spring or summer wedding—or for the spring and summer in general, for that matter. If you're looking for a dress that is multi-purpose, this just might be the dress for you. The vintage style of the dress gives it both a classic and fun feel that makes it perfect for a formal wedding occasion and for when you just want to wear something that's pretty and fun.
This is an A-line silhouette dress, stopping roughly mid-calf. Shear chiffon makes up the top of the high neckline extending from the bodice as well as the mid-length sleeves. Embroidered floral patterns cascade down the length of the dress, accentuated by a satin ribbon at the waist.
This dress comes in two different versions that are actually pretty distinct from each other: black/pink and blue/nude. The black/pink version fully dives into the floral theme, intricate pink flowers and black vines and leaves flowing down the pink body. The blue/nude version, on the other hand, takes the embroidery in a different direction, a blue floral-inspired pattern covering the nude dress.
Colors: Black/Pink, Blue/Nude
Available Sizes: 0-16
 Buyer's Guide
Now that you've some of the wonderful options out there, how should you go about selecting the perfect mother of the bride dress for your daughter's big day?
First and foremost, remember to keep to your daughter's guidelines on color and level of formality, as these are the two most important factors that go into choosing a dress. Second, get something that flatters you and that you feel comfortable in. Those wedding photos are forever, and you want to be able to look back on them fondly, rather than cringing at a bad dress choice.
Each of the dresses listed above are from a certified designer and retailer, so there's no need to worry about the legitimacy or quality of the dress—many can even be found in store, so you can check them out for yourself.
If you don't think that one of the above dresses is quite the perfect mother of the bride dress for you, still check out their attached links that will lead you to their online retailers. Each of these retailers offers dozens of dresses, so you'll have plenty to choose from.
Once you've gotten choosing the dress out of the way, you can focus on everything else that goes into making your darling daughter's big day all it should be.
Target Keyword: mother of the bride dress