*This post may contain affiliate links. As an Amazon Associate we earn from qualifying purchases.
While it might not seem like the most important decision you'll have to make for your wedding day, your first dance song is one you will definitely want to remember. The song you choose for your dance will be the very first thing you do once you've said your "I do's," and should act as a representation of your loving relationship.
Are you having trouble finding your perfect dance song? We've picked out 80 first dance songs to choose from, ranging from classic love songs to upbeat dance numbers. We've got something for everyone on this list, so be sure to check it out!
Top 20 Classic First Dance Songs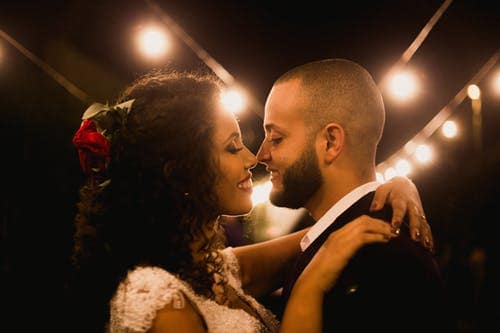 Image Via pexels
Elvis Presley
 I Can't Help Falling in Love With You
"Take my hand/Take my whole life too/For I can't help falling in love with you"
Etta James
​At Last
"At last my love has come along/My lonely days are over"
Whitney Houston
I Will Always Love You
"And I will always love you/My darling, you"
Frank Sinatra 
It Had to Be You
"It had to be you, wonderful you/It had to be you"
Beach Boys
 God Only Knows
"You never need to doubt it/I'll make you so sure about it/God only knows what I'd be without you"
Al Green
Let's Stay Together
"Lovin' you whether, whether/Times are good or bad, happy or sad"
Elton John
Your Song
"I hope you don't mind that I put down in words/How wonderful life is now you're in the world"
Nat King Cole 
​Unforgettable
"Unforgettable/In every way/And forever more/That's how you'll stay"
Stevie Wonder
For Once in My Life
"For once I have someone I know won't desert me/I'm not alone anymore"
The Turtles
So Happy Together
"I can't see me lovin' nobody but you/For all my life"
Stevie Wonder
Signed, Sealed, Delivered, I'm Yours
"Oh, you've got the future in your hand/Signed, sealed, delivered, I'm yours"
Billy Joel
Just the Way You Are
"I could not love you any better/I love you just the way you are"
Dooley Wilson
As Time Goes By
"The world will always welcome lovers/As time goes by"
Frankie Vallie
Can't Take My Eyes Off of You 
"You're just too good to be true/Can't take my eyes off of you"
Frank Sinatra 
Fly Me to the Moon
"In other words, please be true/In other words, I love you"
Eric Clapton
Wonderful Tonight
"I feel wonderful because I see/The love light in your eyes"
Marvin Gaye
How Sweet It Is (To Be Loved By You)
"With sweet love and devotion/Deeply touching my emotion"
Joe Cocker 
You Are So Beautiful
"You are so beautiful/To me/Can't you see"
The Beatles
In My Life
"I know I'll often stop and think about them/In my life, I love you more"
Cyndi Lauper
Time After Time
"If you're lost you can look/And you will find me/Time after time"
Top 20 Modern First Dance Songs 
John Legend
All Of Me
"Cause all of me/Loves all of you"
Jack Johnson
Better Together
"I'll tell you one thing/It's always better when we're together"
Michael Bublé
Everything
"You're every line/You're every word/You're everything"​
Alicia Keys
If I Ain't Got You
"But everything means nothing/If I ain't got you, yeah"
Jason Mraz and Colbie Caillat 
 Lucky
"Lucky I'm in love with my best friend/Lucky to have been where I have been/Lucky to be coming home again"
Adele
Make You Feel My Love
"No there's nothing that I wouldn't do/To make you feel my love"
Ben Folds
The Luckiest
"I love you more than I have/Ever found the way to say/To you"
Ed Sheeran 
Thinking Out Loud
"And darling, I will be loving you 'til we're 70/And baby, my heart could still fall as hard at 23"
Christina Perri 
A Thousand Years
"I have died every day waiting for you/Darling don't be afraid I have loved you/For a thousand years"
Jason Mraz 
I'm Yours
"There's no need to complicate/Our time is short/This is our fate/I'm yours"
Beyoncé
Love on Top
"Baby it's you/You're the one I love/You're the one I need/You're the only one I see"
The Lumineers
Ho Hey 
"I belong with you/You belong with me/You're my sweetheart"
Bruno Mars
Marry You
"Cause it's a beautiful night/We're looking for something dumb to do/Hey baby, I think I wanna marry you"
Justin Timberlake
 Mirrors
"It's like you're my mirror/My mirror staring back at me"
Ray LaMontagne
You Are the Best Thing
"You know I hope and I pray/That you believe me/When I say this love will never fade away"
Dave Matthews Band 
You and Me
"You and me together/We could do anything, baby"
Ingrid Michaelson
The Way I Am
"Cause I love you more/Than I could ever promise/And you take me the way I am"
Paramore
The Only Exception
"And that was the day that I promised/I'd never sing of love if it does not exist/But darlin', you are the only exception"
Ellie Goulding
How Long Will I Love You
"How long will I love you/As long as stars are above you/And longer if I may"
Meghan Trainor ft. John Legend
Like I'm Gonna Lose You
"So I'm gonna love you like I'm gonna lose you/And I'm gonna hold you like I'm saying goodbye"
Top 20 Fun First Dance Songs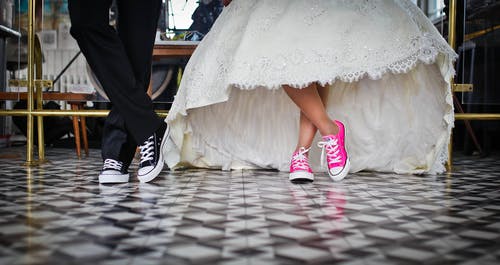 Image Via pexels
Rick Astley
Never Gonna Give You Up
"Never gonna give you up/Never gonna let you down/Never gonna run around and desert you"
Adam Sandler
Grow Old With You
"Oh, I could be the man who grows old with you/I wanna grow old with you"
Paula Abdul
Opposites Attract
"Don't think we'll ever get our differences patched/Don't really matter cause we're perfectly matched"
James Brown
I Got You (I Feel Good)
"I feel nice, like sugar and spice/So nice, so nice, I got you"
Mariah Carey
Always Be My Baby
"And we'll linger on/Time can't erase a feeling this strong/No way you're never going to shake me/Oh darling, because you'll always be my baby"
OMI
Cheerleader
"Oh I think that I found myself a cheerleader/She is always right there when I need her"
Beyoncé
Crazy In Love
Album: Dangerously in Love
"Looking so crazy, your love's got me looking/Got me looking so crazy, your love"
American Authors
Best Day of My Life
"Everything is looking up, everybody now/This is gonna be the best day of my life"
Clean Bandit ft. Jess Glynne
No Place I'd Rather Be
"It's easy being with you, sacred simplicity/As long as we're together, there's no place I'd rather be"
Walk the Moon
Shut Up and Dance
"This woman is my destiny/She said ooh ooh/Shut up and dance with me"
Tegan and Sara
Closer
"I want you close, I want you/I won't treat you like you're typical"
Ellie Goulding
Love Me Like You Do
"Every inch of your skin is a holy grail I've got to find/Only you can set my heart on fire"
Bruno Mars
Locked Out of Heaven
"Cause you make me feel like I've been locked out of heaven/For too long, for too long"
Pharrell Williams
Happy
"Clap along if you feel like a room without a roof/Clap along if you feel like happiness is the truth"
Fleetwood Mac
You Make Loving Fun
"You, you making loving fun/And I don't have to tell you but you're the only one"
The Romantics
What I Like About You
"What I like about you, you keep me warm at night/Never wanna let you go, know me make me feel alright"
Michael Jackson
The Way You Make Me Feel
"The way you make me feel/You really turn me on/You knock me off of my feet/My lonely days are gone"
BØRNS
Electric Love
"Baby, you're like lightning in a bottle/I can't let you go now that I got it"
The Police 
Every Little Thing She Does Is Magic
"Even though my life before was tragic/Now I know my love for her goes on"
The Lovin' Spoonful
Do You Believe in Magic?
"If you believe in magic, come along with me/We'll dance until morning 'til there's just you and me"
Top 20 Unique First Dance Songs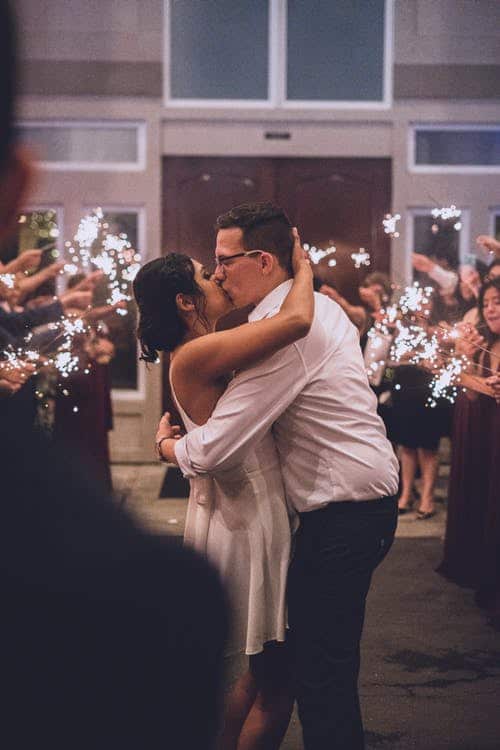 Image Via pexels
The Postal Service
Such Great Heights
"But everything looks perfect from far away/Come down now, but we'll stay"
Landon Pigg
Falling in Love at a Coffee Shop
"I've seen the paths that your eyes wander down, I wanna come too/I think that possibly, maybe I'm falling for you"
Neutral Milk Hotel 
In an Aeroplane Over the Sea
"What a beautiful face/I have found in this place/That is circling all round the sun"
Jack Johnson
Banana Pancakes
"Wakin' up too early/Maybe we can sleep in/Make you banana pancakes/Pretend like it's the weekend"
The Paper Kites
Bloom
"Oh, you fill my head with pieces/Of a song I can't get out"
Florence and the Machine
You've Got the Love
"Now and then it seems that life is just too much/But you've got the love I need/To see me through"
Foster the People
I Would Do Anything
"Ooh la love, I've fallen in love/And it's better this time than I've ever known"
Vance Joy
Riptide
"I love you when you're singing that song and/I got a lump in my throat cause/You're gonna sing the words wrong"
Lana Del Rey 
Young and Beautiful
"Will you still love me when I've got nothing buy my aching soul?/I know you will, I know you will"
Janella Monáe ft. Miguel 
PrimeTime
"Baby, it's a prime time for our love/And heaven is betting on us"
Mazzy Star 
Fade Into You
"Fade into you/Strange you never knew/Fade into you/I think it's strange you never knew"
Iron & Wine
Love and Some Verses
"Love to say this to your face/I love you only"
Yeah Yeah Yeahs
Maps
"Wait, they don't love you like I love you"
Keane
Somewhere Only We Know
"And if you have a minute, why don't we go/Talk about it somewhere only we know"
Sixpence None the Richer
Kiss Me
"Kiss me beneath the milky twilight/Lead me out on the moonlit floor"
The Cure
Friday I'm In Love
"Thursday doesn't even start/It's Friday, I'm in love"
Depeche Mode
Just Can't Get Enough
"I wouldn't wanna have it any other way/I'm addicted and I just can't get enough"
Daft Punk 
Something About Us
"I need you more than anything in my life/I want you more than anything in my life"
The Moldy Peaches
Anyone Else But You
"I don't see what anyone can see in anyone else/But you"
The Smiths 
There Is a Light That Never Goes Out
"To die by your side/Is such a heavenly place to die"
Choosing the Right Song for Your First Dance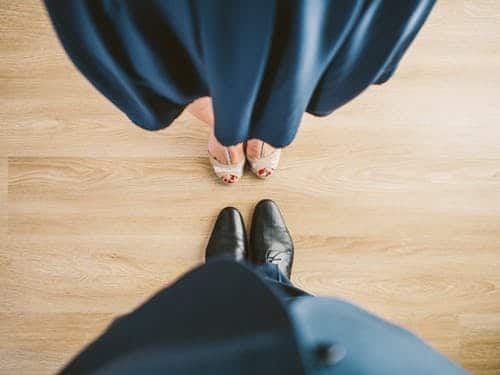 Image Via pexels
The song you pick for your first dance will be "you" song, so you're going to want to make it meaningful. You want a song that perfectly reflects your relationship and shows everyone how much you love one another.
Here are a few things to keep in mind when choosing the right song for your first dance.
Common Music Interests
Sometimes couples don't have the same music preferences, which can turn looking through first dance songs into an argument of taste. Instead of fighting over which genre is better, try to find something you will both enjoy. If you can't agree on something, consider creating a mashup of your favorite genres.
Meaningful Lyrics
The song you choose for your first dance should be meaningful to your relationship, so don't pick something just because you like the beat. Take a look at the lyrics and see if anything resonates with an important aspect of your relationship. Maybe it's a song about how you first met or one about the struggles you've overcome as partners.
Don't Forget the Dancing
You don't need to plan an elaborate dance number to accompany the song you pick, but you will need to choose something you can dance to. Decide together what kind of dances you're comfortable with, be it an elegant waltz or an energized samba. If you're nervous about dancing, pick something slower that you can just sway to.