*This post may contain affiliate links. As an Amazon Associate we earn from qualifying purchases.
The big day is finally about to arrive. You have it all: the cake, the catering, wedding invites, the photographer… but what about the dress?
Shopping for a wedding dress can be the hardest part of all when it comes to planning a wedding. With the sheer number of styles out there, choosing a wedding dress can sometimes see a daunting and overwhelming process.
Choosing a wedding dress shouldn't be stressful, it should be fun!
Looking at wedding dresses prior to hitting the shops is a great way to reduce stress. You can narrow down what overall styles you're interested, as well as materials and add-ons, so that the time you spend at a bridal shop is well-spent and rewarding.
One of the most popular materials to use in wedding dresses is lace. Though lace has always been a staple of the wedding world, with the resurgence of vintage styles in recent years lace is more desired than ever.
If you think you might be interested in joining the legions of women who have already discovered the wonders of lace, you've come to the right place. Below, we've compiled a list of our top 10 lace wedding dresses of 2018 whose beauty is sure to make your jaw drop.
What to Look for in a Wedding Dress
Before we get into the thick of it, let's take a moment to discuss what you should be on the lookout for. Looking into dresses both online and in-person with a strategy can take a lot of the guesswork out of it and make your time both more productive and more fun.
One of the most important things to keep in mind as you commence your wedding gown search is the overall style/fit of the dress. You want to wear something that you feel comfortable and confident in on your wedding day, so finding the right dress style to best show off your body type is critical.
Research what styles typically look best on your body type and also what styles you like best in general, and take this into your consulting appointment.
Remember, though, to still be open to other styles that you haven't initially thought of.
Other important factors to consider include neckline, sleeves, embroidery, and more. Once you have the style of the dress established, you can start looking at variations with the above listed factors to see what combinations most catch your eye.
Other small add-ons can also make a huge difference, such as the inclusion of a small belt or lovely veil. Never underestimate the importance of accessories when it comes to making the ultimate wedding day look.
For more helpful tips on the dos and don'ts of wedding dress shopping, check out this article on glamour.com.
While in this article we are only focusing on lace wedding dresses, we have tried to include a variety of body styles. These dresses also represent variation in sleeves/lack of sleeves, neckline, back, and overall lace pattern. Hopefully, this list will show you just how well lace can work with essentially any style.
How We Chose These Dresses
We've done our best to compile a comprehensive list of lace wedding dresses from numerous designers in a variety of styles and price ranges. We've researched each company and designer on this list as well as individual dress reviews to ensure that each dress is as beautiful in-person as it is online. Each of these dresses is from a reputable designer or retailer, so you can be sure that the dress you fall in love with is actually out there.
With so many unique wedding dresses out there, it's of course impossible to cover all of them. Each of the dresses on this, however, is stunning and can point you in the right direction of whatever dress you may end up buying. So, without further ado, here are our favorite ten lace wedding dresses that you have to see!
Top 10 Best Lace Wedding Dresses
1. Britney – Badgely Mischka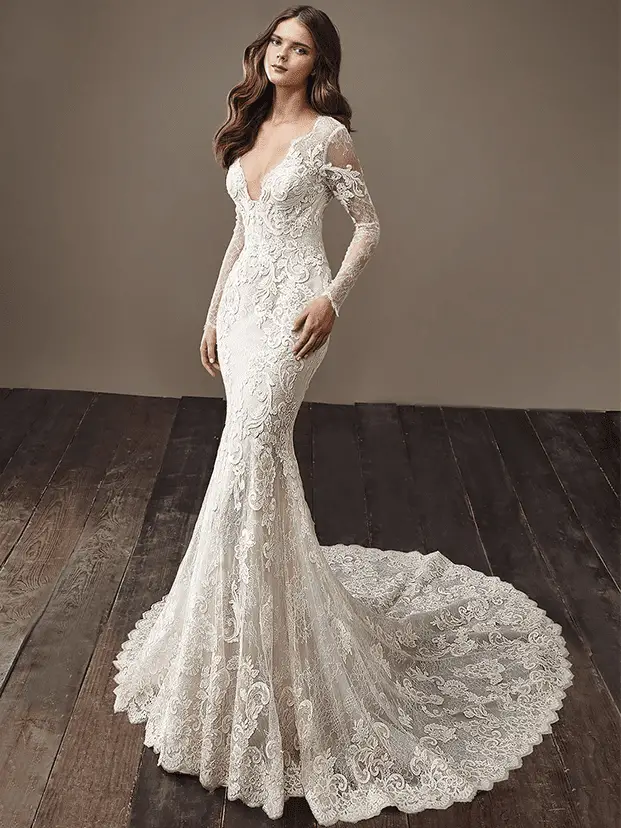 The first gown on this list is the perfect mix of elegance, modesty, and sensuality.
It is a mermaid style dress, so the design is tightly fitted until it reaches just above the knee, where if flares out into a circle of lace. This gown has a lace overlay all the way through for a beautifully vintage look. It has sheer lacy sleeves that taper off with buttons and contrast nicely with a lowcut front and back. It's unlined, so the dress cascades smoothly down in an even slope.
This dress is available in standard Ivory/Gold/Latte, Ivory/Gold/Ivory, and Ivory/Ivory/Ivory.
Price: Retailer Dependent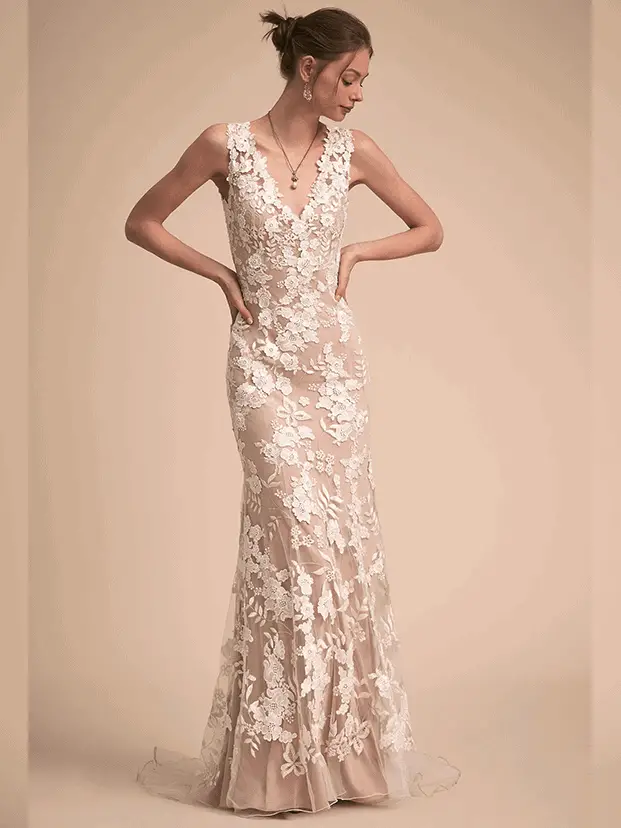 This gown is part of the BHLDN collection, a wedding-focused subset of Anthropologie.
This dress has a lovely lace overlay that details flowers and leaves for a nature-inspired look. The lace goes over a reversible slip, so you can change your dress from a classic ivory to a rosy nude color. In terms of shape, it has a fitted bodice with a skirt that gently flows out in a manner that is softer than the mermaid style. The dress has two thick, lacey straps paired with a V-neck and a sloping back.
Price: $1090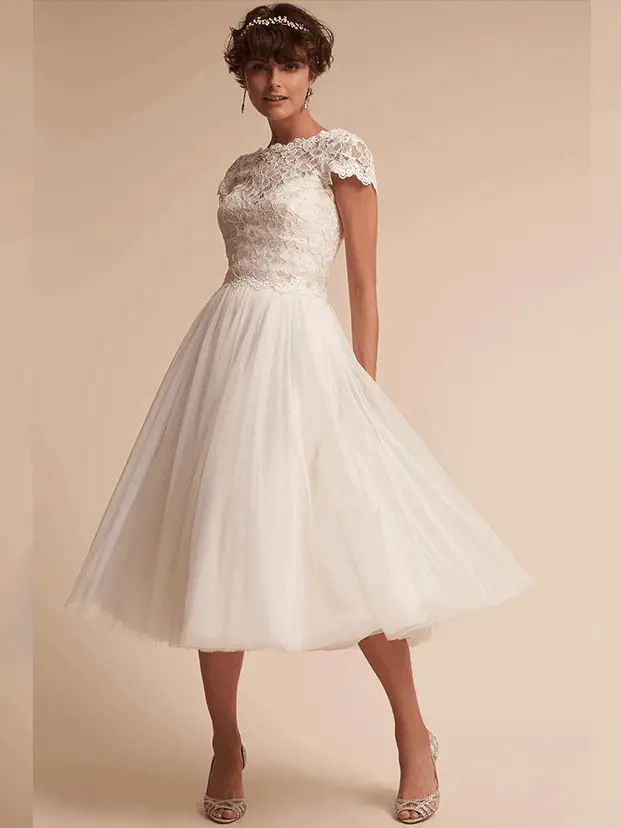 This darling dress is another item from the BHLDN collection. It pairs tradition with fun, offering a lacey high-necked top (the Sydney top) with a tulle skirt (the Marcie skirt).
The lacey top is form-fitting and thickly coated with a tight design of overlapping flowers. The tulle skirt flows out directly at the waist line in full waves of white fabric. Stopping at just below the knee, this is a dress that oozes fun mixed with a classic vintage style.
This dress would be perfect for a themed wedding, or even as a fun and flirty reception dress.
Price: $180-$250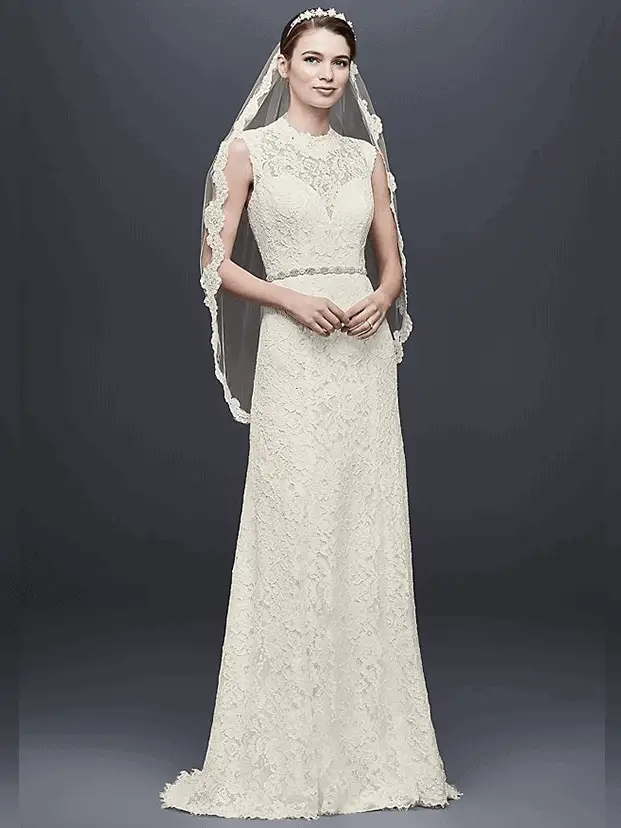 This lace wedding dress is truly an elegant classic. It has a tight-bodice that flows out gently at the waist in a sheath style, so the skirt is not too wide.
Its neckline reaches the very base of the neck, and the shoulders are covered with cap sleeves. An intricate pattern of condensed lace covers the entirety of the dress, the lace directly over the chest, shoulders, and upper back where the white material underneath ends to give a defined heart-shaped dress line over the bust.
A thin and detailed silver belt marks the waist for a simple accent to the gown. This dress pairs especially well with a veil.
Price: $549-$599
This dress has one of the thicker skirts we've seen so far on this list, with it extending out into a short train.
The dress features a soft A-line cut that the lace extends over and cuts across the collar bones to the base of the shoulders, creating that lovely off-the shoulder look and extending down into sheer lace sleeves. The lace extends over the entire dress in a nature-based and geometric design that grows more tightly woven around the top. It also has some light sequins built in for a shimmering look.
Price: $1358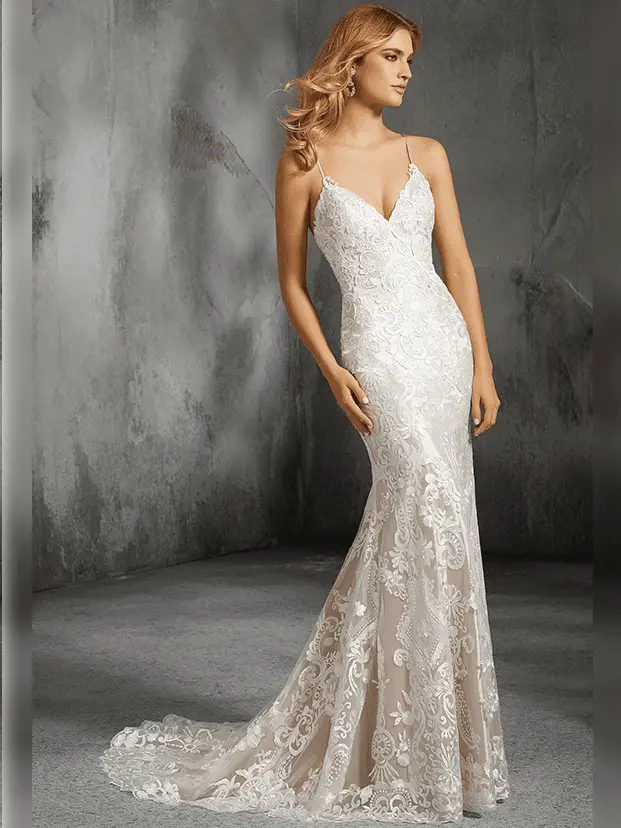 Everything about this lace wedding dress is absolutely lovely. Though technically a fitted sheath dress, the full extension of the skirt into almost a mini-train makes it reminiscent of mermaid style dresses.
The lace is embroidered in a "medallion style" pattern and has a V-neck top. It has thin spaghetti straps that cross each other over the back and then lace together to create a corset-type look. Once the threads are cinched together they trail off in to a bow, and buttons continue down the dress to the base of the spine.
This dress is available in White, Ivory, and Ivory/Rose.
Price: Retailer Dependent
7. Gaia – Watters
The Gaia dress is a fit-and-flare design, so it is tightly fitting until about the mid-thigh, where it then flares out into an elegant train that trails for a few feet.
The dress is wrapped in lace-embroidered tulle, the lace hand-woven into leaf and brier designs. Thin straps support the A-line top, and they continue down around the outer shoulders until they meet the top of the open-backed dress, framing the back with rims of intruding lace fringes. The lace elegantly frames the bottom of the dress and train, showing off the design.
While this dress only comes in Ivory, the lining is available in a variety of colors: Cashmere, Sunkiss, Nude, Blush, Ivory, Off White, and Oyster.
Price: $3,995 – $6,559
Prices may greatly vary depending on level of customization and the services provided by each individual retailer.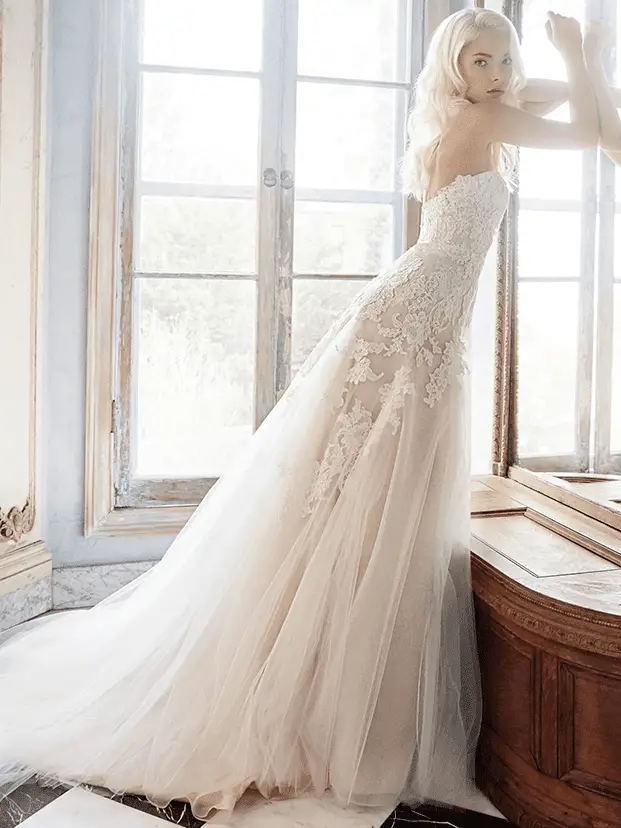 This is an A-line Bohemian-style gown that can be found at Kleinfeld's, the bridal shop in everyone's favorite wedding show, Say Yes to the Dress.
The Bohemian-nature of the style means that it loosely form-fitting on the top, but then lightly loosens for a natural waistline. The top of the dress is decorated with tightly-condensed lace work in the shape of roses, vines, and leaves.
The lacework gradually spaces out as it travels down the dress, only a few pieces making it down to the knee before becoming lost in the full tulle skirt. The skirt extends out very slightly behind the bulk of the dress.
Price: While originally priced at $4000, at the time of this writing this dress can be found for less than a quarter of the price—$999.
This is another dress that can be found at the famous Kleinfeld's.
It has bateau neckline, meaning that it gracefully slopes from shoulder to shoulder, bending slightly around the collar bone area. A fringe of detailed lace surrounds this neckline, which is otherwise made of see-through material that extends up from a sweetheart frame. The bateau neckline extends into decorate sleeves that reach ¾ of the way down the arms.
This sheath-style dress extends into a fairly wide skirt, lace and embroidery trailing all the way down.
Price: To find out the price, you must directly inquire with Kleinfeld's.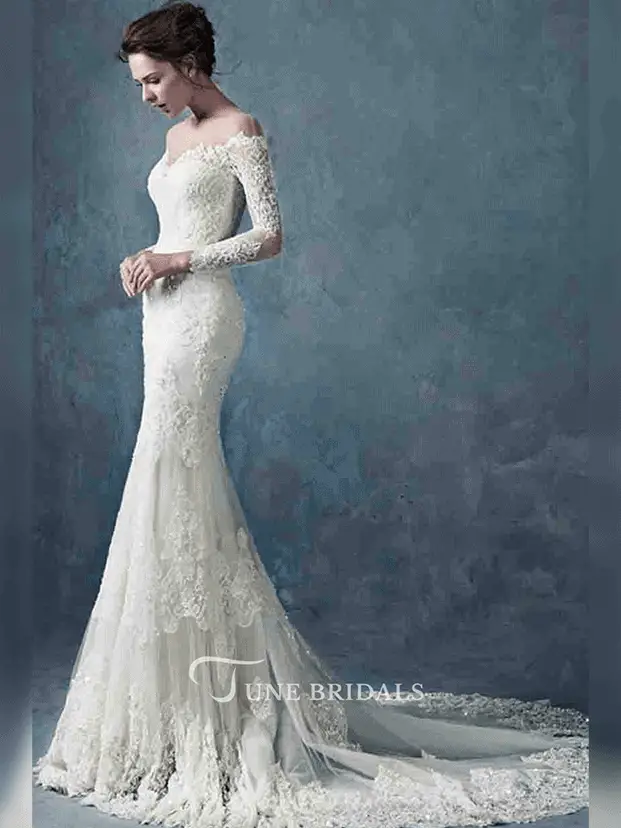 This is one of the most sophisticated lace wedding dresses on this list. Made in a combination mermaid-trumpet style, the tight dress flares out mid-thigh and extends into a short trumpet-style train.
The dress has an off-the-shoulder neckline that extends from a heart-shaped line around the bust. Full, lacey sleeves extend down from the neckline. The lace pattern circles the dress in waves, gracefully cascading down the length of the dress in a sweet vintage style.
This dress is available in White, Ivory, Blushing Pink, and Champagne.
Price: $254.09
Buyer's Guide
Hopefully if nothing else this collection of dresses has shown you how lace can work with any style of dress.
From short and flirty to long and elegant, lace adds a little piece of vintage to every dress that make them irresistible. Whether bunched up in a tightly-woven mass or spread out in a gentle pattern, lace is beautiful no matter how it is designed.
But what dress should you be racing out to buy? As mentioned earlier, one of the most important aspects of any bridal shopping experience is finding the right style/fit for your body type. The list above provides a pretty wide range of styles available and demonstrates how they can all still be draped in lovely lace.
While lacey gowns may have a stigma of being too pricey for some brides, this is certainly not the case. Though there are plenty of expensive lace wedding dresses, there are also plenty that are very affordable. Anyone can have a lace wedding dress.
So, whatever your style preference, adding a little bit of lace is always a good idea. While the dresses on this list are some of our favorites, there are plenty more out there just waiting to be discovered.
Target Keywords:  lace wedding dresses