*This post may contain affiliate links. As an Amazon Associate we earn from qualifying purchases.
Bridal Makeup: 5 Reasons to Hire a Pro and 5 Reasons to DIY
Most likely you fall in one of two camps when it comes to your wedding plans.
You either want to be intimately involved in every single detail or you want someone else to handle as much of the work for you as possible.
No matter what type of bride you are, you want to look and feel your best on your wedding day. Whether you have spent only hundreds of dollars or plan to spend thousands, the bottom line is you have a look you want to achieve for your special day.
Your bridal makeup is something you need to plan beforehand as well. Done properly, it will help you complete your desired look and give you the confidence you need to feel your best.
The very first decision you should make when planning your bridal makeup is who will handle this detail for you. Will you hire a professional for the makeup application or will you be able to achieve the look you want by applying it yourself?
Let's take a look at the pros and cons of each choice and then you can decide what's best for you and your big day.
Top 5 Reasons to Hire a Makeup Artist for your Bridal Makeup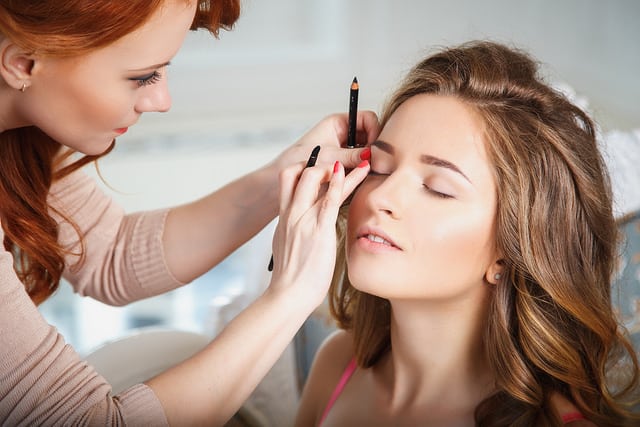 On one hand, a makeup artist sounds like a splurge- a "nice to have"- but not completely necessary. After all, you are used to applying your own makeup on a daily basis.  Would it really be worth the expense to hire someone for one day?
Then again, you know you are going to be stretched (maybe even overwhelmed!) on your big day. The thought of someone handling this for you has a certain appeal to it. Here's why it could make sense to hire someone to take care of this important task for you.
1. You can make it work within your wedding budget.
Maybe you assumed that hiring a makeup artist for your bridal makeup is something only the wealthy can afford. The truth is, just like any other aspect of the wedding budget, there is a makeup artist available with almost any budget in mind.
As you begin to research who you would consider hiring, make sure you have decided on a budget to stick to. It will be more expensive to have someone come to where you are on your wedding day. You could also choose to meet the artist at their place of business (which will be less expensive.)
Pro Tip: If you know you really want to have your makeup done professionally but you are on a tight budget, consider contacting the local cosmetology schools. They can refer you to someone who is just starting out and will be priced less expensive than someone with more experience. Make sure you are able to schedule a consultation beforehand, just as you would with any other professional.
Do be considerate of the fact that many additional items can affect the cost of the makeup application. A few items that will add to your cost are:
2. It will be one less item you have to worry about on your wedding day
Try to imagine how you are going to feel the day of your wedding. It's not only the emotional aspect to consider but also how you will feel physically. Your stomach might be in knots, your palms a little sweaty. While your wedding is meant to be a joyous occasion, it's natural to expect your nerves to be heightened.
If you think your hands will be shaking then perhaps applying your own eyeliner or false eyelashes are the last things you want to worry about.
You know your body and how you feel when the spotlight is on you. If you are concerned about nerves then it's best to let a professional with a steady hand take care of the application for you.
3. A makeup artist will understand the best techniques for both natural lighting and photography.
This is a really important point to consider for your wedding day, if not the most important. In the end, your photographs will be one of the most significant moments from your wedding. A trained makeup artist will know what colors photograph the best and enhance your features in photos. They will be able to balance the look you want to achieve while knowing what will look the best for your photographs.
Keep in mind that your wedding photography will be different than what you are used to using on your phone to take pictures. Just because your makeup looks great on your camera phone, doesn't always mean the look will translate to your wedding photographs. A makeup artist understands this challenge and is prepared to make sure you look your best in all types of photos.
A makeup artist can also be hired to be there with you throughout the day, making sure you always look camera-ready.
4. A makeup artist can enhance your natural beauty.
You want to look like you, perhaps a little more glammed up for your big day.
A makeup artist will be able to create the look you are trying to achieve. If your style is romantic, bohemian-chic or on the natural side they can work with you to find the right look.  A makeup artist should be able to look at your examples, and through a consultation and trial run, create exactly what you are looking for.
5. A makeup artist will have the best tools for a flawless application. 
Your artist will have all of the proper tools needed an impeccable look. Not only will they have multiple color pallets, but also the right foundation, tools, brushes and primer that you might need.
You need to consider the amount of money you would have to spend in order to achieve the look you desire for your wedding day. For instance, do you need to purchase additional makeup brushes or a new eyeshadow pallet? If so, these items alone can easily cost over $100.
Overall, if you have a budget that allows for it and you can find a makeup artist that can create the exact look you want, then why not treat yourself for your big day?
5 Reasons to DIY your own makeup.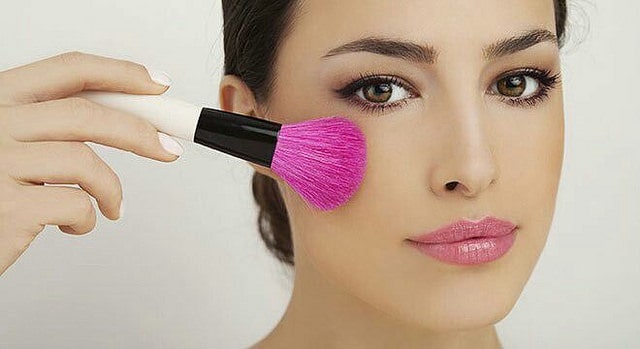 1. You need to watch your budget carefully.
No matter how hard you try, wedding expenses have to be monitored closely or they can quickly get out of control. With the average cost of a professional makeup application starting at $70 minimum, the amount you spend can quickly increase.
As mentioned earlier, there are several items that can send this part of your budget soaring if you don't monitor it closely.
2. You want your bridal makeup to reflect your look on a daily basis. 
Some brides choose to keep their wedding day look as close to their "everyday" look as possible. They want a look that doesn't stray too far their daily routine. This is a great approach if you want to look natural- just don't forget you want to use products to help you look your best in photographs.
3. You enjoy experimenting and creating looks for special occasions.
Your bridal makeup is no exception. You already have a bathroom full of products and already have a great skincare routine that you stick to. You are comfortable applying makeup that is suitable for photographs.
4. You want to go through multiple trials to fit your schedule, not someone else's. 
Leading up to the wedding there are countless appointments. There are dresses to be hemmed, foods to sampled and flowers to be decided upon. Adding another person to setup a consultation with may not work for your schedule. If your schedule is going to be really tight while you are engaged, then you can practice your bridal makeup when it's convenient for you.
5. You want to use your own products and not feel pressured to purchase something you might not want to buy.
This could be driven by your tight budget or how you feel about receiving services in general. As a bride, you will be inundated with multiple options to purchase. A makeup service might not be any different. If you don't want to have to say no to all of the offerings, then it's best to skip this service.
When to decide who will apply your bridal makeup
So, you've weighed all the pros and cons of hiring a professional makeup artist and finally made your decision. Now, what do you do?
If you choose to hire a professional for your wedding day then you will need to book your consultative appointment at least two months before you get married.
If you have chosen to apply your makeup yourself then make sure you practice well in advance. You will need time to research which items work best for photographs. Once you have researched-and possibly experimented- then you can purchase the products to create your perfect look. Plan on allowing at least a couple of months to complete this process.
In the end, you will have to make your decision based on what makes the most sense for you and your special day. No matter which makeup route you choose, you will want to feel your absolute best. Your bridal makeup will be an integral part of making you feel beautiful on your wedding day.