*This post may contain affiliate links. As an Amazon Associate we earn from qualifying purchases.
7 Gorgeous Emerald Cut Engagement Rings
So, you're finally going to pop the big question.
Now that you've found the person you're going to spend the rest of your life with, it's time to find the perfect ring for your perfect partner.
But, let's face it, there are so many different styles and cuts of rings that you're better off narrowing down the cut of ring you and your future fiancée want. From there, the journey of choosing an engagement ring will be much more manageable.
To help you out a little bit, we've put together a list of some of our favorite engagement rings in a style that has an older feel to it, but has recently made a come back among brides: the emerald cut.
What is an Emerald Cut?
The emerald cut was initially designed for (you guessed it!) emeralds. An emerald cut stone is usually rectangular or square in shape with step-cut facets running parallel to the girdle of the stone. Therefore, they tend to reflect less light than most brilliant cuts.
These "steps" around the rectangular "table" of the stone were designed with the intention of catching the flashes of light that occur in high-quality emeralds. So rather than constantly sparkling, an emerald cut stone will catch the occasional beam of light, creating a dramatic flash off one of the facets of the stone. Funnily enough, the cut is becoming more and more popular for diamonds! Many women are opting for this style because they don't want a giant rock constantly glittering on their left hand.
Emerald cut stones are incredibly elegant and can have a vintage feel to them (think Art Deco styles). Because of their rectangular shape, they also help lengthen the fingers of the wearer. The downside to emerald cuts is that it makes the stone's flaws much more visible, requiring gems with near-perfect clarity.
As for the cost, emerald cut rings also tend to be less expensive than other cuts. Fewer facets mean fewer hours working to produce the stone, and less money from your pocketbook (in theory). However, because emerald cuts need high-quality stones in terms of color and clarity, expect to invest a bit more on that front.
How We Picked Our Emerald Cut Rings
In creating this list, we hoped to provide you with a variety of emerald cut engagement rings in terms of style, price, and quality. We looked for rings from companies that are known for creating amazing quality stones so you can be sure that your future fiancée is getting the perfect ring she deserves.
We also tried to find rings in a variety of price ranges. However, you should remember that many places only list the setting price – not the price of the center stone. Since your choice of carat size may vary, you can't truly know the price of a ring until after you've made all customizations.
Rings at a lower price range are also going to have stones with some obvious imperfections. This is to be expected as it is incredibly challenging to come across completely pure gemstones in nature. So, though we want to include rings of excellent clarity in this post, we can by no means guarantee what the actual stone will look like.
Consequently, we took the design of the ring itself into great consideration because a beautiful design can help detract from any potential imperfections in the stones. In this list, you will find emerald-cut rings with varying designs to suit anyone's personality and taste.
Our 7 Favorite Emerald Cut Rings
Here are the seven rings that caught our eyes. Read on to see if your perfect ring is on this list!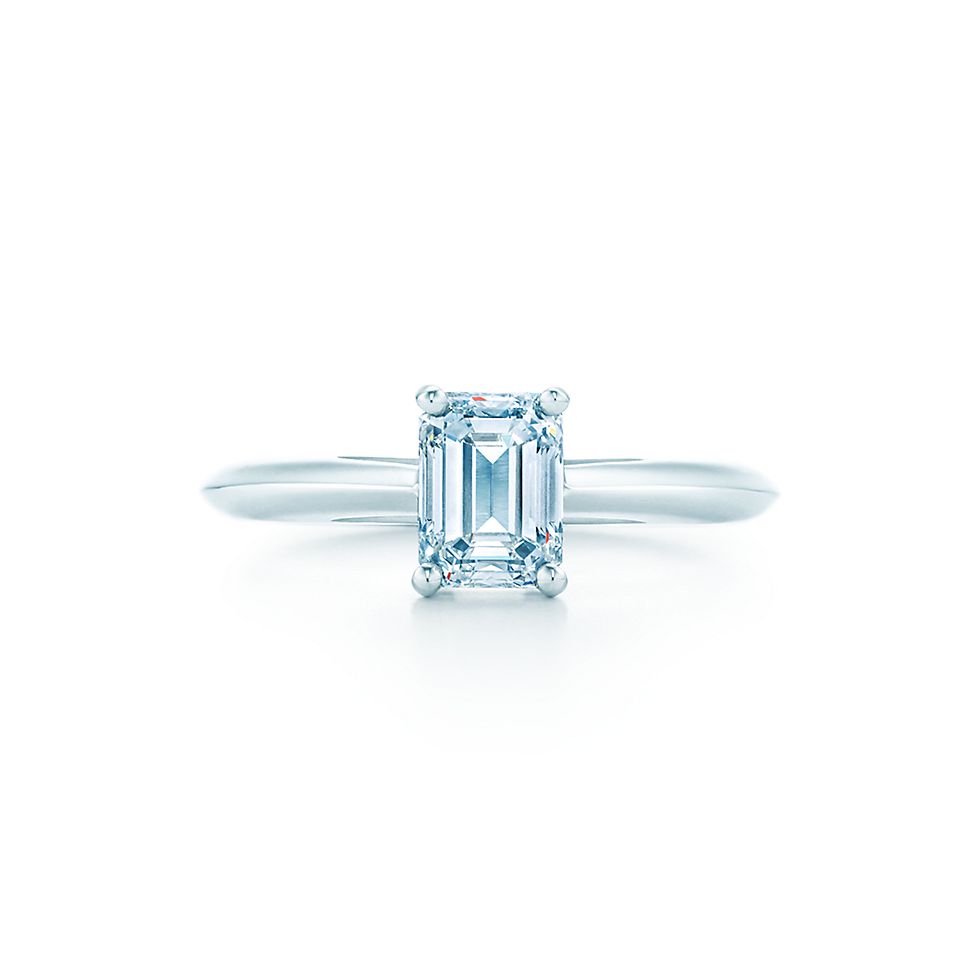 Are you surprised? How could we not include a ring from Tiffany's?
We love this sleek, modern emerald cut engagement ring from one of the most famous jewelry companies in the world. You can immediately tell how much Tiffany & Co. values craftsmanship and technicality in this ring. The concentric rectangular rows of parallel facets showcase the extraordinary clarity and color of this diamond. And of course, it's showcased in Tiffany's signature setting, raised higher above the finger to catch even more glimmers of light.
The simple, streamlined band on this ring makes the diamond the focal point for an overall elegant effect. You also have the option of two wedding bands to accompany this engagement ring: the Tiffany Wedding Band, which matches the sleek look of the band on the ring, or the Tiffany Soleste® Diamond Band, which adds some sparkle and glam to the emerald cut ring.
The Tiffany Emerald Cut ring is available in six different carat weights and is priced from $10,000, depending on which weight you choose and subject to availability.
No matter what, this ring is a timeless option for the elegant, modern woman.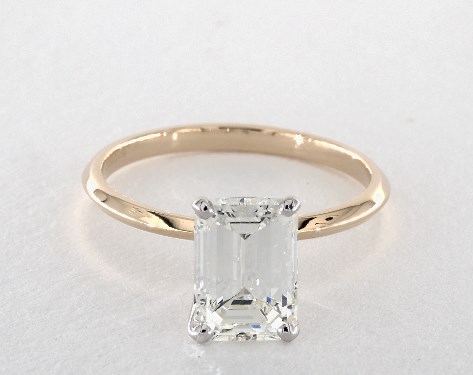 We think that this emerald cut ring is absolutely stunning.
It's so elegantly simplistic with its unadorned yet shining yellow gold band and enormous 2.5-karat rock in the center. "Solitaire" is an apt description for this engagement ring. The diamond is so scintillating and pure that it needs no other accompaniment – other than the hand of the woman who will be sporting it. This is a perfect example of how minimalist design can be incredibly dramatic.
The price tag – a whopping $19,430 – certainly matches the quality and splendor of this emerald cut ring. But, it's a ring that she will definitely say yes to. Plus, this engagement ring is one that can be passed down through generations because the design is so timeless.
It's the ultimate accessory and symbol of love for that super chic woman in your life.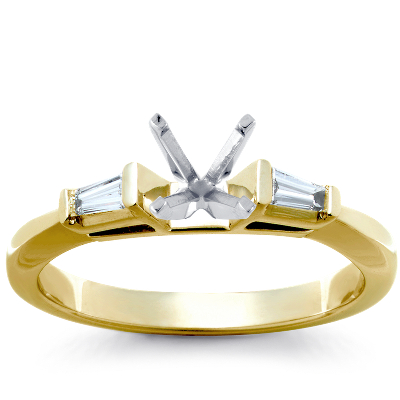 This emerald cut ring from Blue Nile offers an ornate, vintage-inspired look.
The band features eight petite, pavé-set diamonds set in a marquise and dot pattern, with milgrain edges for a delicate frame to the emerald cut diamond center. The band is also available in four different metal types: rose gold, white gold, yellow gold, and platinum. The rose and yellow gold lend to that vintage feel, whereas the white gold and platinum create a ring that has a modern look with antique details.
The setting price on this ring is $1,050 and Blue Nile offers free resizing, lifetime warranty and cleaning. This emerald cut design boasts excellent ratings from buyers, and we love how you can customize it to suit your bride.
The Alina emerald cut ring, available at Gabriel & Co. New York, is a contemporary and refined design that will endure the passing of time. It's the kind of ring that will still feel classic and elegant fifty years after your wedding day.
The straight silhouette of this ring is simplistic yet sophisticated. The accent diamonds around the band add detail and intricacy without distracting from the purity of the center stone. The setting is available in white, yellow and (our favorite) rose gold, all in 14 karat. The center stone is a one-carat diamond.
The setting price for this emerald cut ring comes in at $2,065, though prices are subject to change. Gabriel & Co. is voted the  #1 most preferred fine jewelry brand, according to their website, and are available at a number of independent retailers. Simply enter your zip code to find one near you.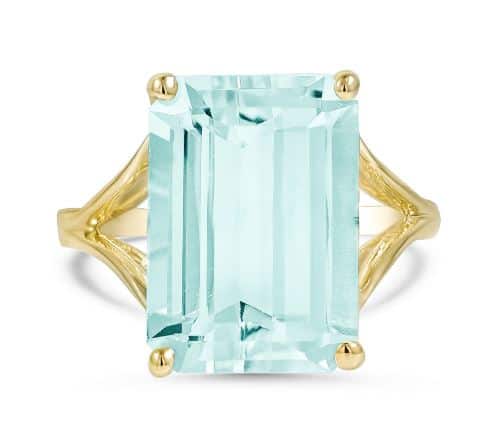 This ring is absolutely breathtaking.
The Alayne Ring from Brilliant Earth is the ring for the girl who doesn't believe diamonds are her best friends. This 1950s emerald cut engagement ring will stand out with its ethereal aquamarine center stone set within a raised open gallery. It's seriously an enchanting, fairy-tale ring to offer up when you propose.
The 14 karat yellow gold band splits into two slender strands for a graceful and whimsical look. It's an enchanting, retro ring unlike any other. So if your soon-to-be fiancée is a unique, vintage-loving queen, then we definitely recommend getting this ring or something like it.
Plus, because you're buying vintage, it's an eco-friendly alternative to the new mining necessary to make modern-day jewelry. Brilliant Earth also donates 5 percent of its profits toward education, environmental restoration, and economic development in diamond mining communities around the world.
Brilliant Earth offers one complimentary resizing on all of their vintage rings. Any future resizing will have an additional cost. Currently, you can purchase this ring for $3,490, which is not too bad for such a special engagement ring.
This divine three-stone emerald cut ring from Zales is a beautiful option for your proposal.
The center emerald cut stone is flanked by two delicate pear-shaped diamonds for added embellishment and dimension. The diamond-studded band splits off into two strands from the center diamond, creating an interesting and eye-catching design. The band itself is crafted in 14-karat white gold for a modern finish.
This is certainly a timeless engagement ring for any woman who wants a little extra sparkle on her finger. The center diamond comes in at 0.5 carats, and the two pear ones are 1/8 carat each. This particular ring is not terribly expensive at around $3,100. However, the detail on the Zales website gives it a rating of I2 for clarity. This means that the diamonds have some imperfections, or "inclusions," that are visible to the naked eye.
Regardless, this is a gorgeous option if you want an emerald cut ring with some other stone shapes as well.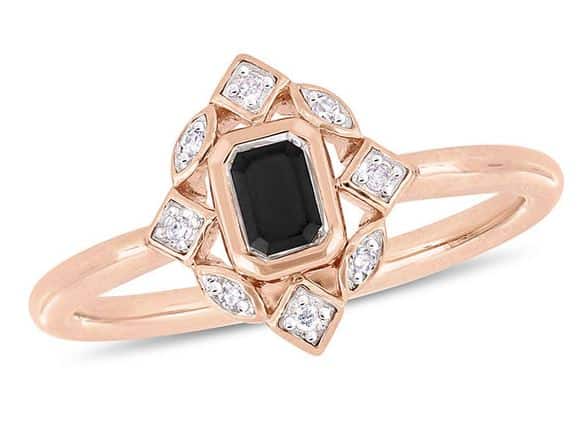 Another emerald cut ring from Zales, this one is a bit non-traditional but still errs on the side of vintage-inspired.
The center stone is an emerald cut black diamond set in a diamond shaped frame, which is paved with white diamonds of varying shapes and sizes. The rose gold band and frame creates additional color contrast and interest in the overall design. This ring absolutely has an art-deco aesthetic to it.
Most black diamonds on the market today are man-made either by exposing white diamonds to irradiation or heat, or created in a lab. White diamonds with many inclusions are typically used in this scenario. Black diamonds are, in fact, a naturally occurring phenomenon, though it is quite rare. A natural black diamond is an impure stone consisting of diamond, graphite and amorphous carbon.
Considering it costs only $629 right now, chances are high that humans treated this black diamond. But that doesn't mean it's any less enticing. This emerald cut engagement ring is an affordable and unique style for your unique woman.
Buyer's Guide
Though we would love to hear you say that you found your ring today among this selection, what's most important is that you find a ring that you are drawn to with a special sort of magnetism.
Taking that into consideration, the journey of choosing an engagement ring is one that couples should consider going on together. We're not saying that the bride-to-be should be present when you actually buy the ring, but there should be some degree of collaboration when narrowing down the design options.
Emerald cut engagement rings certainly aren't for everyone. Some might say that the cut is a bit too old-fashioned, while others might love how it lends a vintage touch to even the most modern of setting designs.
Whatever your opinion, you should fall in love with every aspect of your engagement ring. If that includes an emerald cut stone, then wonderful! You're going to probably wear this ring nearly every day, so it needs to be one that brings you joy. And remember – this ring should not necessarily be a trendy fashion statement.
We sincerely hope that you found some inspiration among these seven gorgeous emerald cut rings. No matter what, we're certain that you will end up with a ring she will say yes to.