*This post may contain affiliate links. As an Amazon Associate we earn from qualifying purchases.
Questions To Ask About The Wedding Venue Before You Book
Couples and wedding coordinators go all out to pull off a great event when they are planning their wedding. Brides tend to want it all. They move heaven and earth to get the best of everything.
They ask for different flowers, food, beverages and cakes. They try to find the best wedding venues and caterers. All their efforts are to make their wedding celebration both memorable and romantic if not the best there ever was.
Weddings take a lot of work.
If you are planning a wedding, then you have questions to ask about the wedding venue.
Exploring Romantic Wedding Venue ideas
Keep in mind that with the right venue, your entire celebration can be an even more romantic occasion. The meaning of a romantic wedding is different for everyone. But to everyone, it is an expression and occasion for love.
Many are left in awe by the bride and bridesmaid's appearance, some coo over the ambiance and decorations, others are taken in by a mixture of all these things.
At the end of the day, depending on the bride and groom's tastes, the venue can be anything.
Some are romantic locations like beaches and gardens, other couples want a traditional location like churches and great halls. But today you have the more adventurous sort who are into underwater weddings or even consider tying the knot in a hot air balloon.
All these locations tend to have special significance or importance to either or both the bride and groom. Oftentimes, its places they have been together, where they first met, or have always wanted to have their ceremony.
Where Can You Get Married?
Back in the old days, people would opt for a more traditional location, like a church and city hall. In such settings, families would get together, have a simple ceremony and then go elsewhere for a dinner or reception.
Now it is more popular to have the ceremony in some exotic and unbelievable venues. So feel free to dream and ask about the possibilities.
On the Beach
Did you meet on a beach? Is this your favorite place? Do you want to have your wedding on the beach? Is it possible?
Yes, beaches are a popular venue and it is considered supremely romantic. The scenery helps to create an atmosphere of love, warmth and romance.
Beaches are a casual spot, and the happy couple has the freedom to transform this into an elegant, formal setting if they wish to. Most keep the semi-casual feel and brides dress in sundresses, skirts or short dresses. Grooms tend to don khaki, cotton pants or less formal suits.
What if I want to have my ceremony in the sea, under the sea or even in a submarine, is that possible?
Well, yes, that is possible too. Going into the sea is an adventurous venue option. Not many guests will be present, but it will be an interesting and memorable ceremony.
In a Cave
You might say, "We are nature buffs. Can we have our wedding in a cave, cavern or camping area?"
Caves are also a popular location. Couples may allow the natural look or they can transform the setting with environmentally friendly decorations.
More often than not, couples who are into nature and love the outdoors, they may opt for this type of wedding venue.
At a Sporting Venue
Many couples like to wed in a location where they met and sporting arenas are a thing too.
A golf course or baseball stadium is another popular choice. Many couples share their love for a particular sport; others might have met there or have gone there on many occasions.
This is for the adventurous types, and often it is very romantic for very sentimental reasons.
Couples have chosen to get married in many other locations. It is their memories and declarations of the love and experience of their friends and families that make these locations special. Romance can be whatever a couple makes it.
High Up in an Air Balloon
Do you want to be high up in the clouds?
Well, that too is a possibility. For the more adventurous sort, getting married in an air balloon is very ideal. They see this in keeping with the height of their emotions and love for each other.
This is a popular choice. But for some, especially those with a fear of heights, it would be a very bad idea.
Even though some do the opposite and go to great depths instead. Many couples choose to get married in or on the sea. Deep-sea diving weddings are for those who have a passion for the open sea. Couples who do this often share a common love of this environment and believe it is the romantic location for them.
Out in the Great Outdoors
We are a camping family and we want to incorporate our favorite spots. Can we have our wedding outdoors in the wilderness.
You most certainly can. It will take planning and proper coordination.
Keeping on the trend of nature, some couples may choose to get married on top of a waterfall or on a cliff. The reason for this may vary, but it goes back, to being one with nature, and feeling close to the ancestral ties.
Stadiums, golf courses and basketball courts are another location.
Many do this because they met there, or are a lifelong fan of a particular team. This goes back to the idea of choosing a location that both the bride and the groom love and have special memories there. Plus, nowadays, more and more weddings are being held outside.
Parks, Floral Gardens, and Country Settings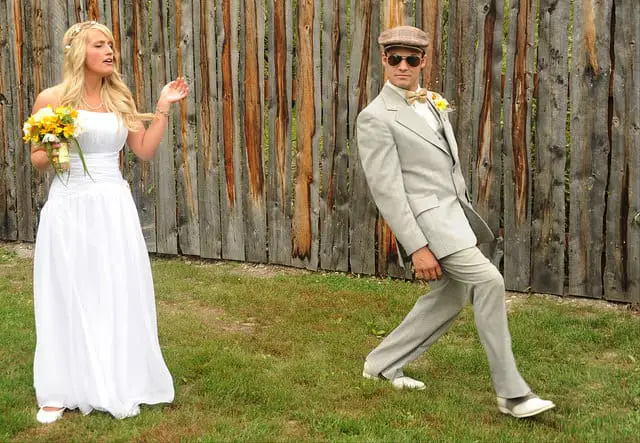 Many couples opt for a local park. We met at the one in town. Can we get a permit to have our wedding there?
Yes, it is possible. Actually, people are fans of the country settings and floral gardens type of a theme. It will save you on having to buy your own floral decorations.
These exquisite choices call for fewer decorations. Many parks and floral gardens will aid the couple in reallocating their wedding budget to other much-needed areas. Though the wedding will have to adhere to certain rules in order not to spoil or mar the natural flora and fauna.
Investigate Further Where You Want To Have Ideal Wedding
Weddings are one of the most romantic events. Just seeing two people saying their vows, dedicating their lives to each other and pledging their undying love is awesome.
The ambiance, flowers and colors all add to this atmosphere of romance.
Another element that dominates in our minds when we think about romance is the location. The venue is always an important factor. Many people chose traditional locations like churches and rent ballrooms. However, in recent times, people are exploring more avenues.
Some chose locations that are even more memorable than the ceremony itself. A location should have a special or intrinsic meaning to the bride and groom. They should both attribute some occurrence of importance to this location. Many choose the place they met or went on their first date.
It is imperative that the choice of wedding location should be a shared decision between the groom and bride because they will both look back on it.
You do not want any unfulfilled sentiments from either party. A marriage is now about the two people and not what one wants over the other. Both people should feel a connection and want to create new memories in that spot.
Carefully Think About All the Elements in Choosing a Safe Location
Wedding locations should be chosen because they add to the romance of the event. You want your guests to be comfortable. You do not want your guests to risk their lives or limbs trying to get to the venue also. So for far out places, notify everyone fully.
When you have questions to ask about the wedding venue, make sure they are equipped and all precautions are taken.
Do not risk your own life just so that you can brag after it is done. For example, like trying to have a wedding in shark-infested waters. This might turn out to be your funeral. Certainly, you will not be able to have a hundred guests. Nonetheless, remember safety first.
Think about an island getaway or using the services of a top ranked hotel in the Caribbean.
Many people choose to do so because it saves them tons of money.
Beaches are one of the most popular choices for a wedding venue. The sound of the waves, the feel of the wind and the majestic beauty that this locale provides, is coveted by many. A beach wedding ensures beautiful wedding pictures, a semiformal or casual choice of attire and a very relaxed atmosphere.
Resorts do this so well because they already have a lavish setup and a great, white sandy beach. Food can be supplied in huge amounts and your guests will already have their own private quarters.
It could almost be a shared honeymoon for everyone, until you jet-off to somewhere else more exclusive.
So, be free, be bold explore those questions and see what wedding venues are available in your area.