*This post may contain affiliate links. As an Amazon Associate we earn from qualifying purchases.
A brides wedding dress is everything. It's the first thing her new husband will see her in. It's the dress with which her life will forever be changed (along with her last name). This dress very well may be the most important piece of clothing you ever wear, thus the laborious process of picking and choosing a dress is no joking matter.
​Comparison table
| Product ​Photo | ​Product Name | ​Price |
| --- | --- | --- |
| | | |
| | | |
| | | |
| | | |
| | | |
​Over the years, traditional wedding garbs such as enormous ball gowns have decreased in popularity, so that different style wedding dresses could begin to trend, enter tea-length wedding dresses!
​Tea-length dresses are described as a bit longer than the knees but with the hem always above the shoes. The hem on these dresses ends about 3 to 4 inches above the ankle, in the mid-calf region. These dresses are a sweet, chic and modern alternative to heavy ball gowns.
​This is a great option for those small and petite ladies who want to look sassy and stunning without feeling swamped by fabric. Or just for that gal who doesn't want to melt in her summer wedding. Let that flash of leg show with your sexy calves and strut down the aisle with your fabulous shoes on display.
​These dresses have recently been trending, growing in popularity and are found to be particularly popular for outside weddings and outdoor events, due to their breathability during hot circumstances.
​For those who revel in the vintage vibe, this style is for you. The tea-length wedding dress provides a timeless look, with many of the brides wearing this style looking like they stepped straight out of a 1930s movie set.
​If you're convinced yet on learning more about this wedding trend then keep reading because I am going to show brides-to-be all the best dresses, sites and tips to consider when picking out your tea-length wedding dress.
​Image via Pixabay
How We Chose Our Ratings
These dresses have all been personally rated by me, myself and I. With that being said, I claim to be no fashion expert or miracle wedding guru. Instead, I am simply just a 22-year-old with a love for unique wedding dresses and looking absolutely fabulous.
The dresses listed below all personally stood out to me for a myriad of different reasons. No single choice below is either right or wrong. However, each dress is equally different, beautiful and capable of turning even the nastiest of Bridezillas into a glowing princess.
Top 5 Best Tea Length Dresses
The amount of tea-length wedding dresses out there is innumerable and there's absolutely no way that I could even begin to list half of the sites where you could find them. Instead, I'm just going to show you a few of my favorites, as each one differently embodies the beauty within a tea-length wedding dress.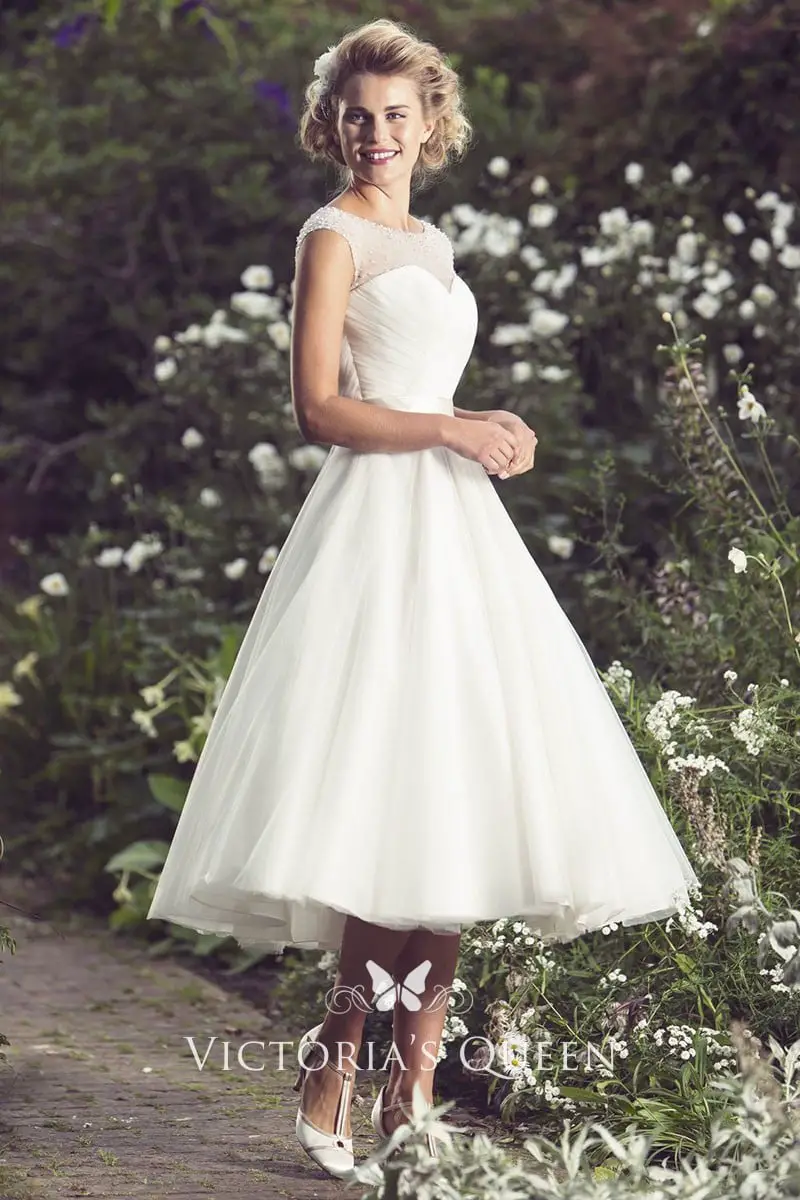 This dress screams elegant, as the ivory piece has an illusion beaded neckline on a strapless sweetheart bodice topped with an A-line tea-length organza skirt. This dress easily made it to the top of my list due to the sheer simplicity of class that this dress conveys.
The price is awesome, the product looks breathtaking and the website, Lucky Bridals, has such an extensive array of reasonably priced gorgeous tea-length dresses that quite honestly you might have to look no farther than here!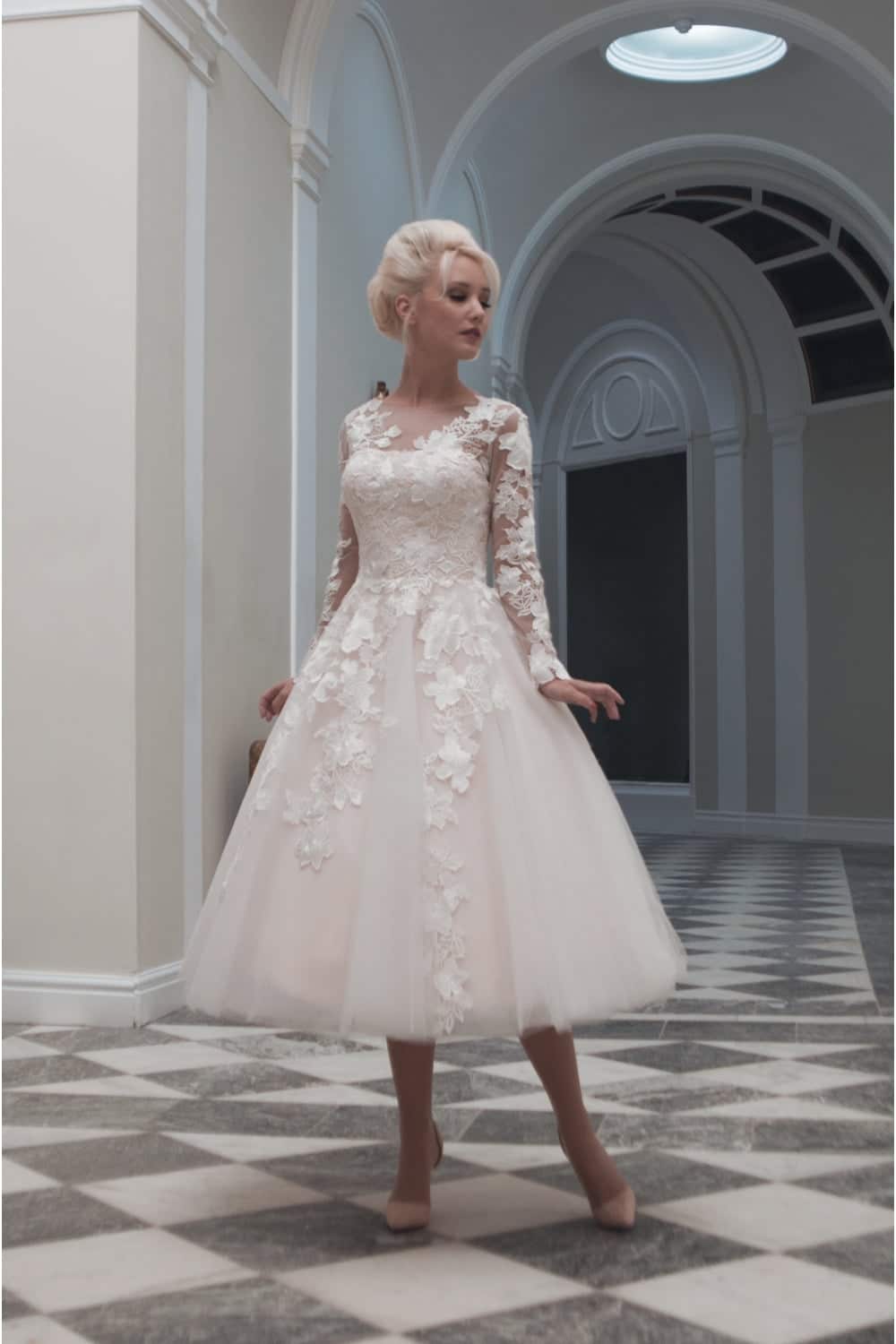 ​​​House of Mooshki is a delectable collection of retro style tea-length dresses, that convey a vintage style feel. This gown features details popular back in the 1950s, such as sheer sleeves, a satin collar and circular skirt just perfect for spinning around the dance floor all night long.The full skirt, lace detailing and satin sash that cinches the waist provide an absolutely regal feel to the ensemble. This dress was found on Cutting Edge Brideswith the site featuring many other tea-length wedding dresses to choose from if this option doesn't toot your horn.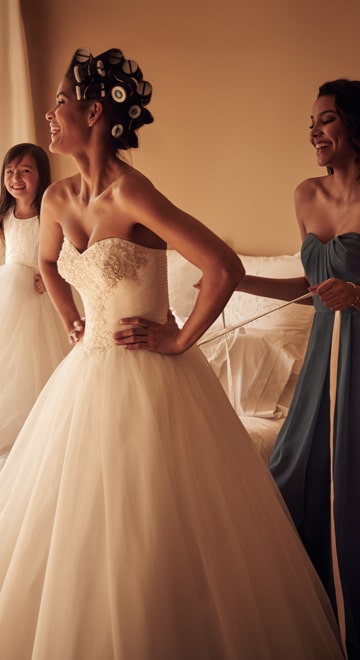 Dang, is this dress is a steal! Originally almost $1,000 this beautiful strapless piece has been marked down to only $99 on David's Bridal! That deal is insane, especially for the intricate design through lace applique that is attached to this dress. Although it is strapless, the sweetheart neckline produces such a feminine essence to the piece. The waist is dropped and back zips completely up with a button detail overlay.  
I can guarantee any woman, and yes anyone CAN wear it as the dress is offered in plus sizes and extra length, wearing this tea-length will feel beyond special. The designer Oleg Cassini is only available at David's Bridal, however, if this dress doesn't do it there are many other tea-length options that can be found on his site.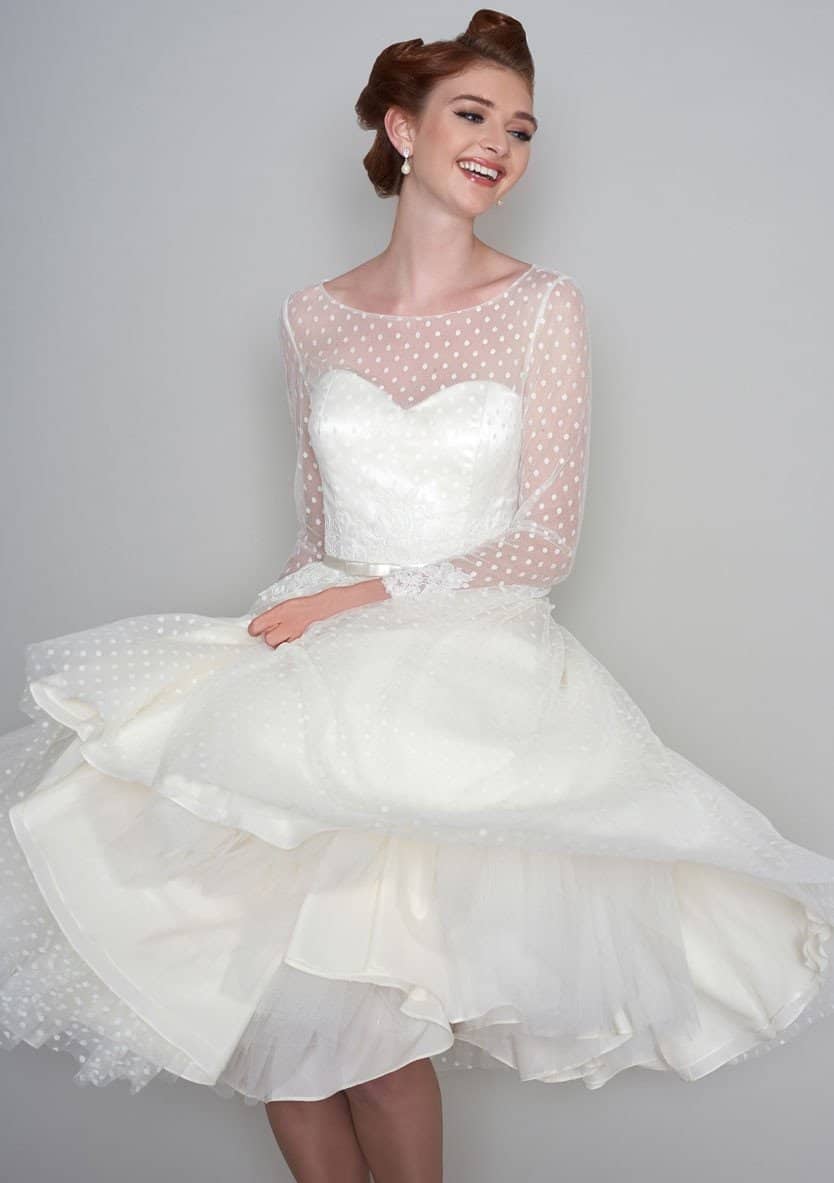 This one of a kind cheeky polka dot dress with full-length fitted sleeves is quite the statement piece. This 50s-style dress offers the options of having the long-sleeves removed for those brides wanting to get married in the warmer months.
At first, I didn't think I would like it because of the polka dots (dotty tulle), but honestly, it's absolutely subtle enough to just add the perfect touch of stunning. This dress is super fun, playful, and I could absolutely see a young bride rocking the look.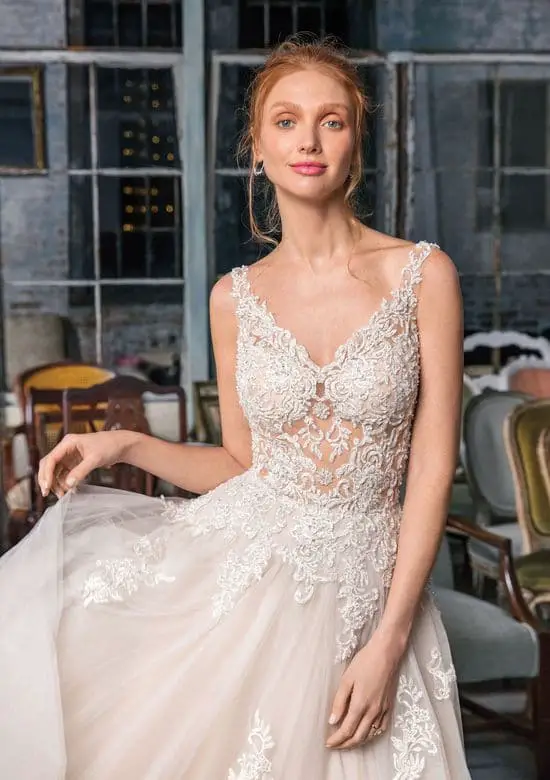 Think sexy Princess. This playful layered ball gown by Justin Alexander is offered in light almond, dove and nude. It has a party on top with some serious elegance down below. The illusion beaded lace adorning the top of the dress covers all the necessities, however, adds a sexiness that can't be hidden. Any bride wearing this dress will definitely be making a statement, as scattered lace appliques are placed throughout the flowy skirt with a finishing touch of horsehair trim.
            Each of these dresses is absolutely breathtaking. Any woman would be lucky to wear any one of them, as I can tell that each is made of quality materials.
As mentioned before, these are absolutely not the only places to find tea-length dresses. However, these are some of the best sites that I was able to find and they all look both reputable and credible.
So take a look my lovelies, see what you like and don't my feelings won't be hurt. This guide is here to help you choose the perfect option that uniquely suits your wedding needs.  
Buyer's Guide
When looking for the perfect tea-length wedding dress there are a few things that need to be taken into consideration before making that big decision.
Silhouette: There are multiple different silhouettes to choose between for your tea-length gown. From A-line, sheath, trumpet, mermaid and ball gown, the options seem overwhelming. A helpful hint when deciding a silhouette to go with is to consider how full you want your skirt. Once you have that answer, your options should be narrowed down significantly.
Fabric: Are we thinking lace, chiffon, organza, satin or tulle? How about a fun mix of all! There are multiple different fabrics to keep in mind when choosing that perfect dress, each one giving off a different overall look. Make sure to discuss the differences with whichever bridal store you decide to order your dress from.
Neckline: What kind of neckline are we looking for? How do you want those puppies presented to the world on your enchanted day? Obviously, you want to look sexy for your man, however at the same time without giving Grandma a heart attack!

Not to fret, we've got options for every type of bust. There's halter, high neck, Queen Ann, plunging, Bateau neckline, off shoulder, sweetheart and V-neckline. Through trial and error (sorry I can't do this one for you), you'll be able to find the perfect place-holder for your little ladies.

Sleeve: From cap sleeve, flutter sleeve long sleeved, sleeved and sleeveless there are many different options for how to adorn your upper arms. Remember to consider your surroundings when making this decision, as a strapless dress probably isn't the right choice for an outside winter wedding.
Season of the Year: Listen up ladies, the time of year absolutely does matter when planning for your wedding. Make sure to take things like the weather, humidity and location of wedding ceremony into consideration before choosing something like long lace sleeves in the middle of summer.

As you can see, the detailing behind choosing that perfect dress is a lot more intricate than most want to admit. However, each item listed above are all things that should be taken into consideration when picking your one of a kind tea-length wedding dress.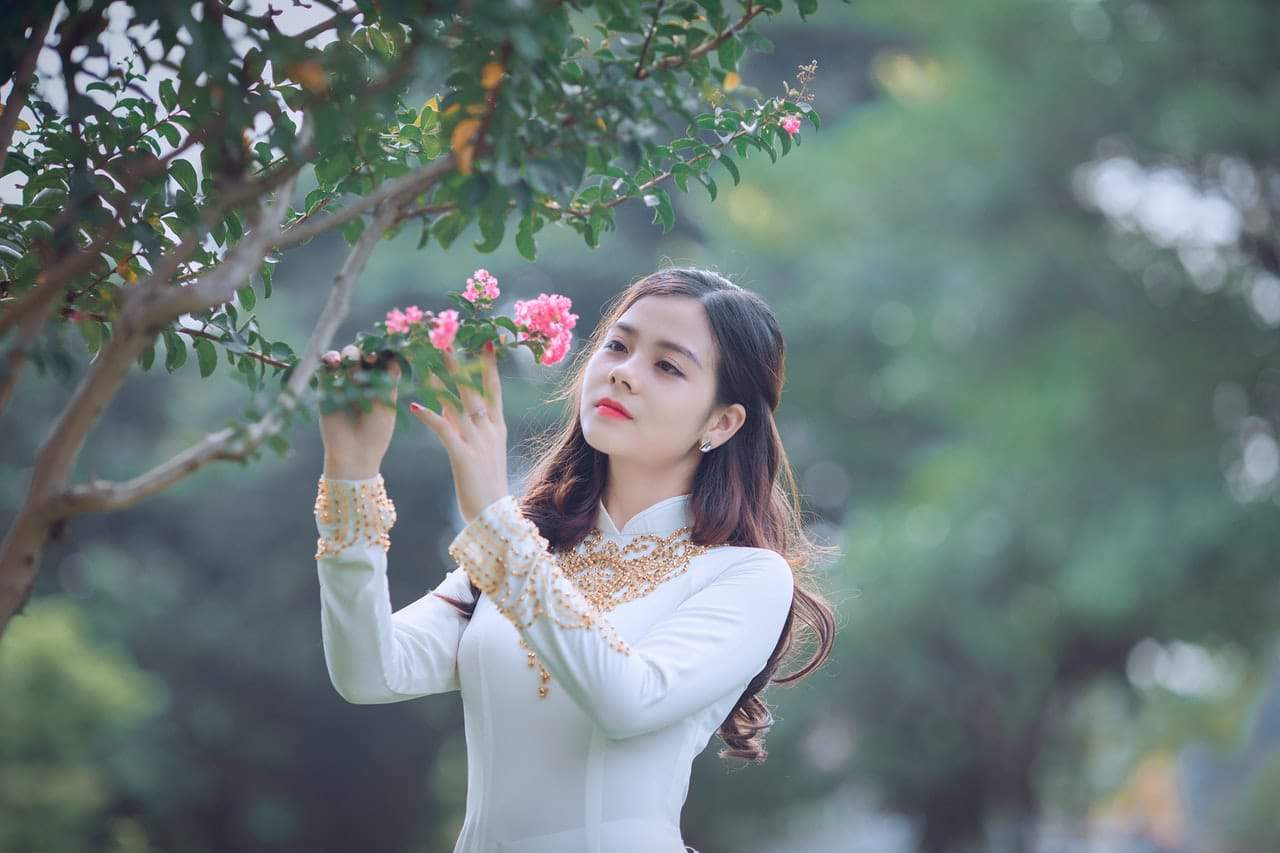 ​Image via Pexels
​You Will Look Absolu-tea-ly Stunning
At the end of the day, amidst all the vintage looks and Audrey Hepburn vibes, be sure to decide on a dress that has your specific name written all over it. Everyone will have their own say (and opinion) but you just do you and stick to that perfect mental image that you've most likely had in your head for decades.
Chances are that if you're opting in for a tea-length dress, you're a very fashion-forward gal. You're conscious of your value and beauty, thus it's time to pick the perfect bodice to help show off all your glam.  
This moment is for you, so carefully consider your options, make a dazzling decision and then revel in your magnificence!