*This post may contain affiliate links. As an Amazon Associate we earn from qualifying purchases.
Want to make sure your wedding reception is full of fun, laughs, and party games that your guests will never forget?
We are here to help you choose some really fun, easy games that you can play with your wedding guests, and can use as a great way to get your guests moving around and having fun. There are ten that we really like, and we will be rating them all to help you choose which ones you want to play as well.
First, let's discuss how we choose our ratings.
How We Choose Our Ratings
It is vitally important to us that we are ensuring our reviews are honest and accurate. To do this, we take a few additional steps in our research to make sure it is thorough and correct.
We make sure to read and research online customer reviews and testimonials. This allows us to get a broader view of what the general public thinks of the product in question. It also gives us insight into any widespread issues or complaints that might not show up anywhere else. We are also able to gather quite a few pros and cons from other customer reviews as well.
We also make sure to thoroughly research the product specifications. By doing this, we are ensuring that if any of our readers buy the product we are reviewing, they know exactly what they are getting. There won't be any surprises and/or confusion when receiving the item in the mail. This also allows us to identify any potential drawbacks that the product may have as well.
Lastly, we make sure to research the company that makes the items thoroughly. It is important to most customers that they are purchasing products from businesses that they can trust and stand behind. This also gives us insight into a company's customer service policies, as well as their warranty and return policies.
For this specific list of wedding games, there are a few different factors we will consider: How much it will cost to put together, the number of people that can play at once, and how easy it is to learn and play.
Our Ten Favorite Wedding Games
Here are our ten absolute favorite wedding games, for both adults and kids alike.
Giant Jenga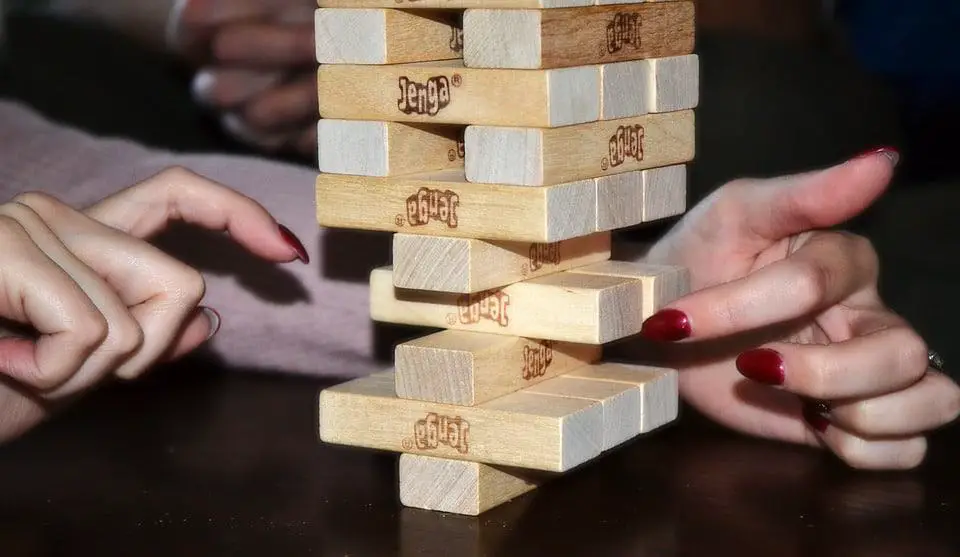 This is most likely a game you have on your coffee table and have played it with friends before.
However, if you are not familiar with it, Jenga is a game of wooden blocks that are stacked on top of each other three by three. You and the other players take turns pulling out the wooden blocks, until the tower falls over.
With the wedding version, the pieces are much too big for your coffee table. You can get pieces big enough to make a tower as tall as 3 or 4 feet tall. This makes it much easier for a big wedding group to play, and it will be fun for children and adults as well.
You can purchase a set of big Jenga blocks for about $60.00 online, or if you are especially crafty, you can make your own.
We give this game a four out of a five-star rating. The only reason we are taking off one star is because it is only good for small groups at a time.
Cornhole
If you are having an outdoor reception, or if your guests will have the opportunity to go outside, cornhole is an easy, fun game for people of any age.
Cornhole is a game involving two boards, each with a small hole, that are spread about 10-20 feet apart. Each player is given a few small sacks filled with dry beans or rice, and they toss them to the board furthest from them to try and get them in the hole.
This is another game that you can either purchase online or DIY. If you decide to make your own, you can even paint them to match the theme of your wedding, like these couples.
We also give this game a four out of a five-star rating. While it is super fun and easy, it is only good for small groups at a time.
Dart Art Station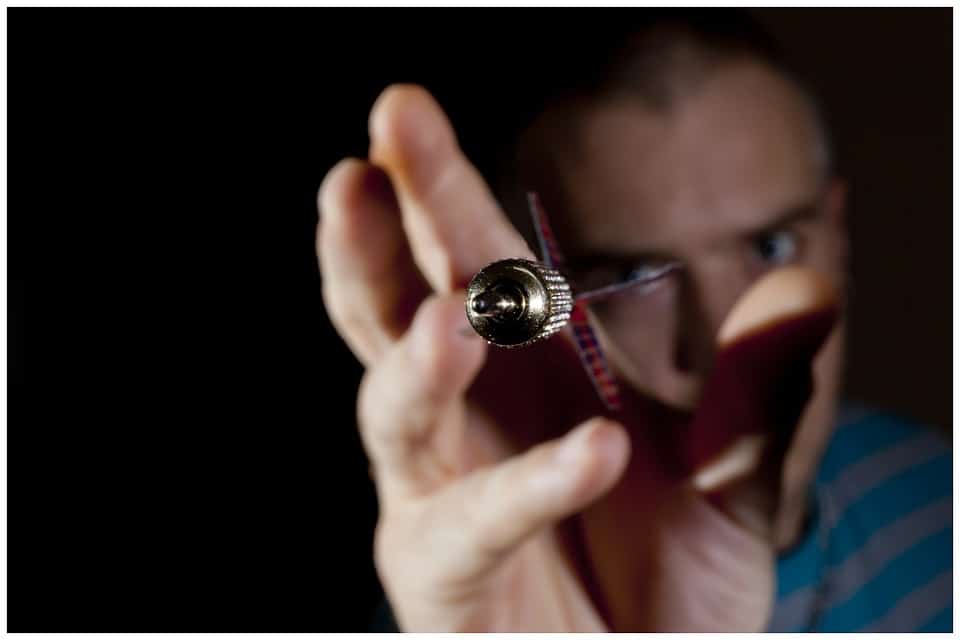 This game will give your guests a fun, memorable time and it will give you some gorgeous art to remember the day by.
To make this happen, you simply just have to set up an enormous canvas (preferably outside), and attach balloons filled with paint along the top or all over the canvas. Set up a dart-throwing station at a safe distance (5-10 feet), so no one gets paint on their formal clothing.
As guests wish, they can throw darts at the canvas to hit the balloons, which will result in some super fun, colorful art that you can keep after the event.
We give this game 4.5 out of 5 stars. It allows all the guests to engage, but it is a little messy.
Wedding Bingo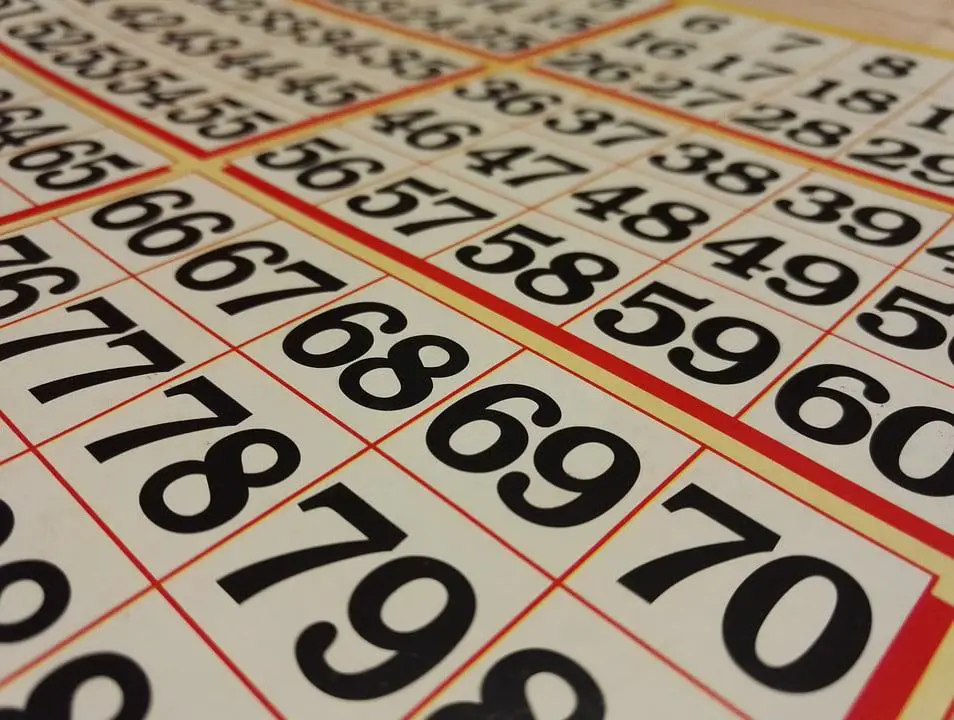 If you want a good icebreaker to get your guests talking to each other, wedding bingo may be a good choice for your special day.
This version is a little different than your average game of bingo. Instead of staying seated and marking off a card as the numbers on their bingo sheet are called, guests will walk around and find guests who make the features on the sheets.
For example, your sheet could have an option for "someone who has tattoos." You will have to walk around and find someone who can fit that spot. It allows your guests to mingle and talk to people they don't know as well as others.
Using less generic terms like tattoos, weird pets, etc. make the game much more interesting.
We give this game 5 out of 5 stars. This game gets the guests moving and talking to one another, and it is easy to set up.
Dance Off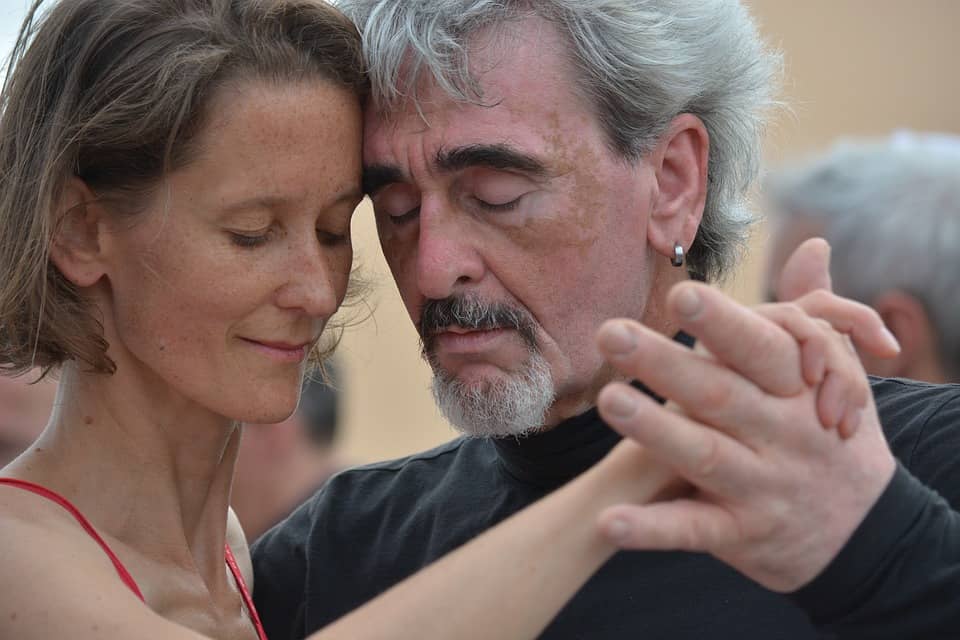 If you have a particularly rowdy crowd at your reception, or just a lot of kids, a dance off may be just the thing to get them engaged in the party.
Have all the kids and/or willing adult participants gather around the dance floor. You can arrange different events like having kids dance together, having them pair up with an adult, or having two people compete against each other in a literal dance off.
We give this game 4 out of 5 stars. It is fun, but definitely not for everyone.
Cootie Catchers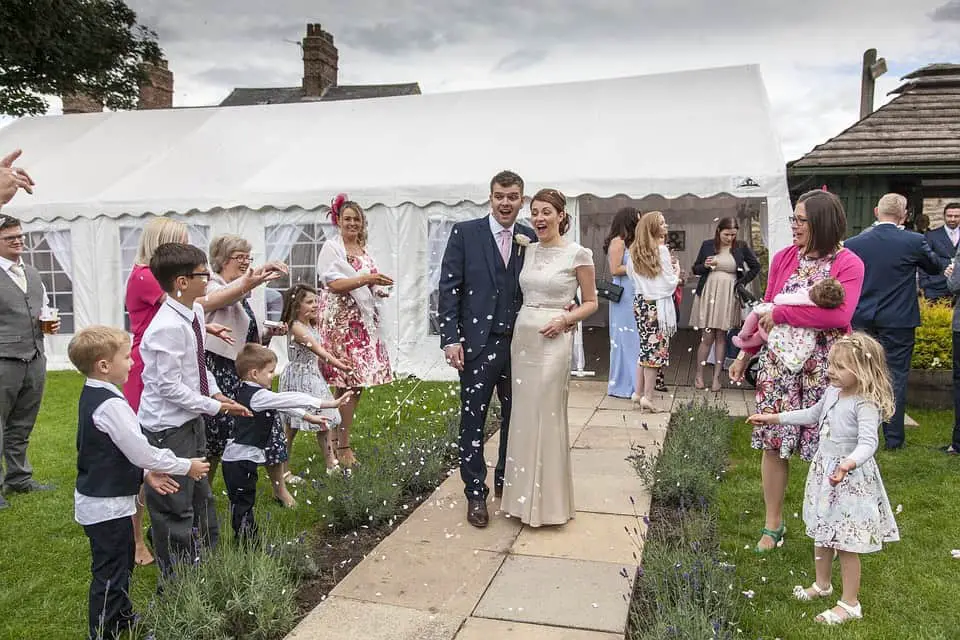 This is another great option to keep kids engaged and occupied during the wedding reception.
Making cootie catchers is fairly easy for the kids to do themselves, and you can even print out online plans for them to make it easier. You can also make them and have them on the tables as party favors for the guests as well.
Consider making one batch of questions for the kids, and another for the adults.
We give this game 4 out of 5 stars. This is a game that will most likely be more interesting to kids, and may not be that engaging for adult guests.
High Striker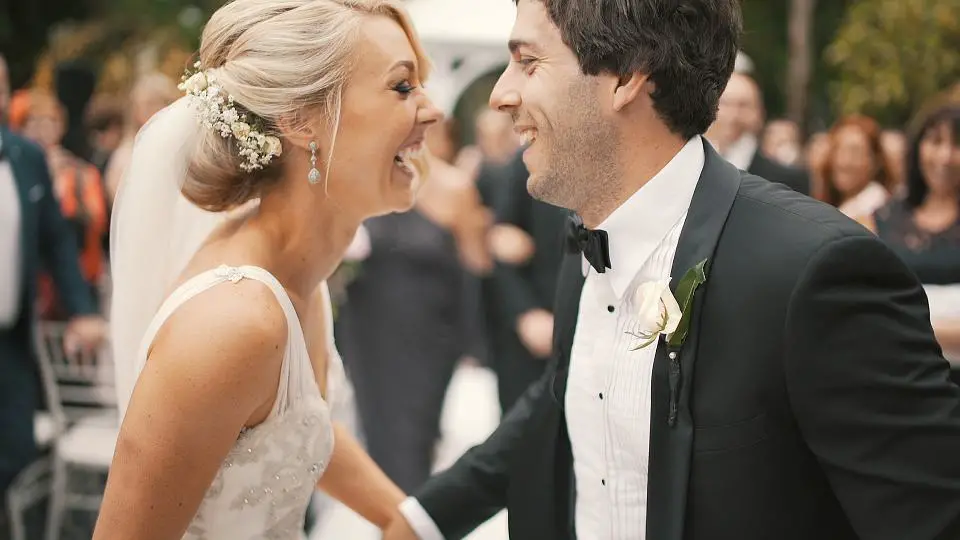 While this is typically something you would see at your local fair, giving your guests a chance to compete over who can hit something with a sledgehammer the hardest is always fun.
This can also be something you have two of, one for the adults and one for the kids. That way everyone has one that fits their height and strength.
If you aren't sure what a high striker is, you have probably seen one at events like circuses and fairs. It is a tall pole with numbers going up to the top, where there is also a bell. It is connected to something you hit with a sledgehammer, causing a small object to be shot up the pole. The harder you hit it, the higher it goes. The ultimate goal is to hit the bell at the top of it.
We give this game 4 out of 5 stars, simply because while it is fun and engaging, it is a little more difficult to make and set up.
Ladder Golf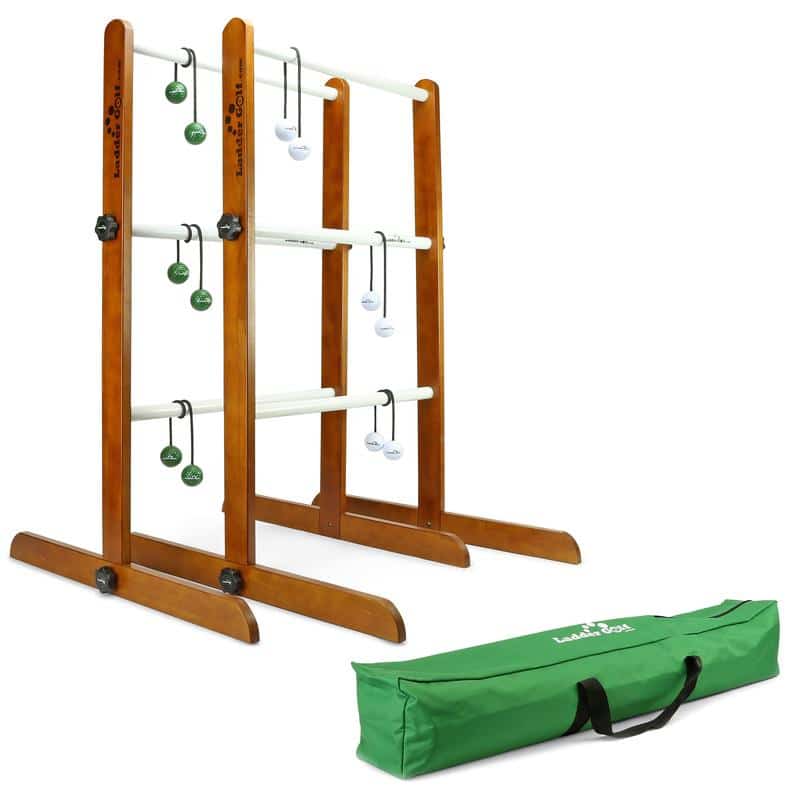 This is another very popular game, especially at outdoor parties/parking lot parties. You can play this with two or more people.
Separate the players into two teams – it does not matter how many people you have playing as long as there's more than two. The two teams take turns throwing bolas (this consists of two golf balls attached by a nylon rope), at a ladder propped up about 10-20 feet away.
Both teams take turns until one reaches 21 points.
We give this game 5 out of 5 stars. It is easy to play, and very fun for all ages.
The Shoe Game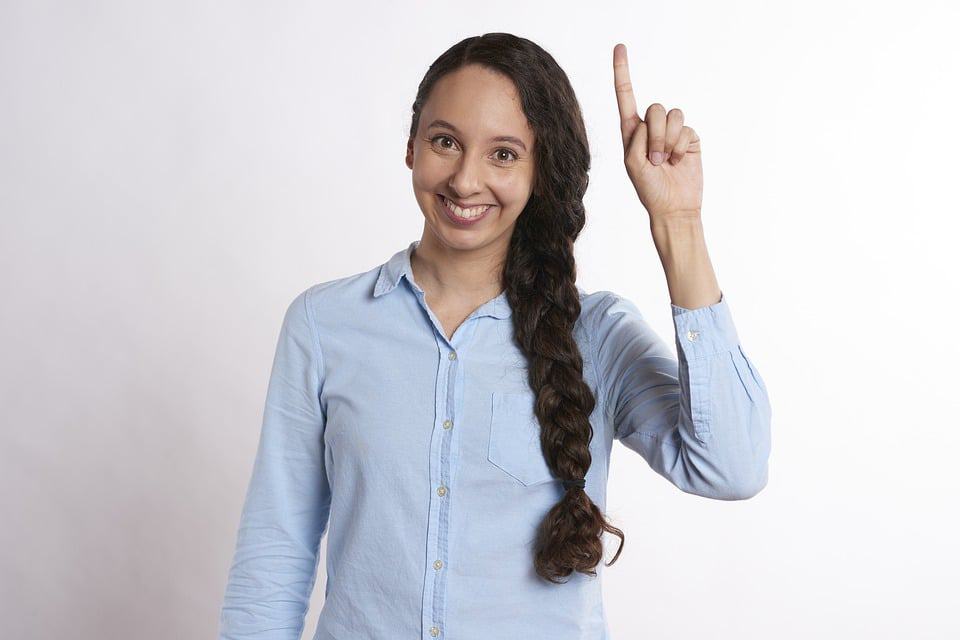 This is another great icebreaker, especially if you have a decent amount of guests who want to get to know the bride and groom a little better.
For this game, the bride and groom are seated in chairs that are faced away from each other, and the backs are touching. The bride and groom's shoes are removed so that the bride is holding one of the groom's, and the groom is holding one of the bride's.
One of the members of the bridal party reads the questions out loud so that the whole party of guests can hear them. To respond to the questions, the bride or groom have to raise the shoe of the person who best fits the answer of the question they were just asked.
If you would like more participation from the guests, you can have them submit questions prior to playing the game.
You can also get the guests to play along with you. Give each one a card with the bride's picture, and another with the groom. Then they can lift up their answers as you and your partner play as well.
Some examples of questions that are suitable for this game are:
Who is the better dancer?
Who made the first move?
Who is the better driver?
Who has more pairs of shoes?
Who takes longer to get ready?
We give this game 5 out of 5 stars. This game is super traditional, fun, and easy to play. We also love that all the guests can participate.
I Spy Wedding Game
Last but not least, we have the very popular I Spy Wedding Game. This is a great game for both the bride and groom and the wedding guests.
It is very similar to a scavenger hunt. Essentially, the guests will use their personal cameras (or you can provide them with disposable ones) to take pictures throughout the day of all the memorable moments. This takes some of the pressure of the professional photographer to catch all the candid shots, and it gets the guests talking and more engaged in the party.
You can provide each guest with a list of picture goals for the day, including things like:
A group selfie
Funny dance moves
Have the instructions for the game either on each table or create a cute, big sign to inform guests of the rules. To make it easier for you to see all the photos after the wedding, give your guests a hashtag to use on social media.
We give this game 4 out of 5 stars. It is fun, easy, and engaging, but you may not know how engaged your guests are with it until after the party.
Our Final Thoughts
We hope that this list was helpful in making your wedding reception the most fun and memorable day of your life. Which games are you most excited to try out?