*This post may contain affiliate links. As an Amazon Associate we earn from qualifying purchases.
Yet another stressful decision for your wedding, picking the perfect transportation for your perfect day.
Are you going to go traditional and lux with a limo? Or casual and comfortable with your own car? Will an animal make an appearance or maybe a motorcycle?
There are many options with many pros and cons each, depending on what you are looking to achieve in terms of the vibe and aesthetics.
Many people chose many different forms of transportation for their wedding day to suit their unique needs. However, there are some universally important things to consider no matter what mode of transportation you end up choosing.
Considering cost, reliability, and professionalism of the transportation and provider you choose is immensely important and should be considered well in advance in order to avoid any hassles or mishaps on your wedding day. A classic? A horse? A bus? Consider carefully and pick what is perfect for you with a little help from us.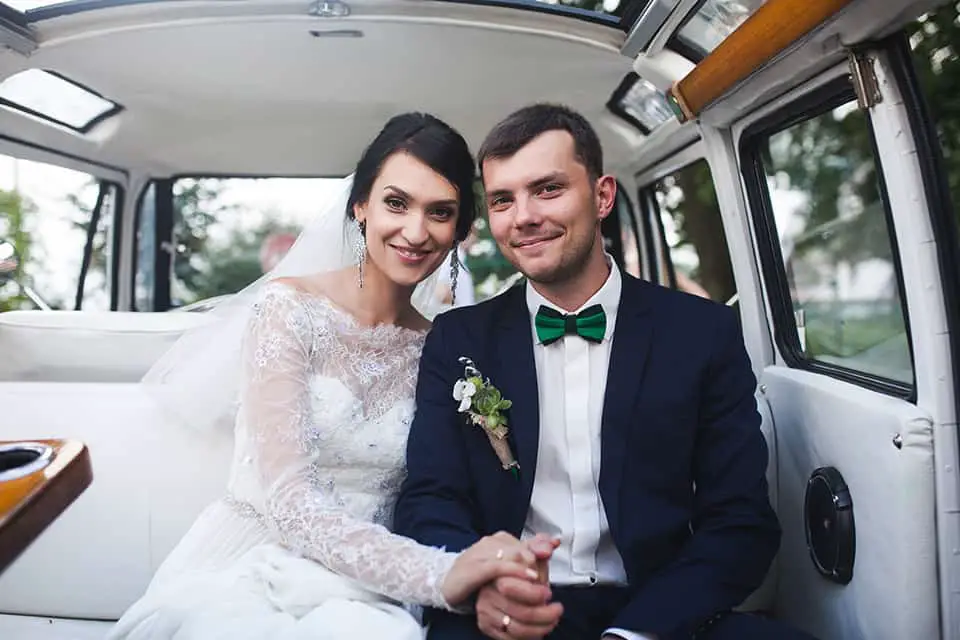 9 Options To Consider When Choosing A Wedding Transportation
Too many options can be debilitating, but just the right amount can lead you on your way to planning the perfect wedding. Here are 9 amazing options for wedding transportation that will make your wedding day perfect.
1. Your Own Car
This is a cheap, sturdy, and hopefully, reliable option. If you own a car and it is the absolute love of your life, other than your fiancé of course, then use your own car to transport you from your home to the wedding venue.
First of all, it is easy. No coordination, planning, deciding, or relying on others to come through on time required.
There will be no running around figuring out whether anyone ordered the limos and why they are not on time.  It will not cost a thing, a very helpful aspect if you are on a budget like most of us, and it allows something special to you to play a special role on your special day.
It is a perfect option to create a homey, familiar, and comfortable vibe for your big day.
2. A Limo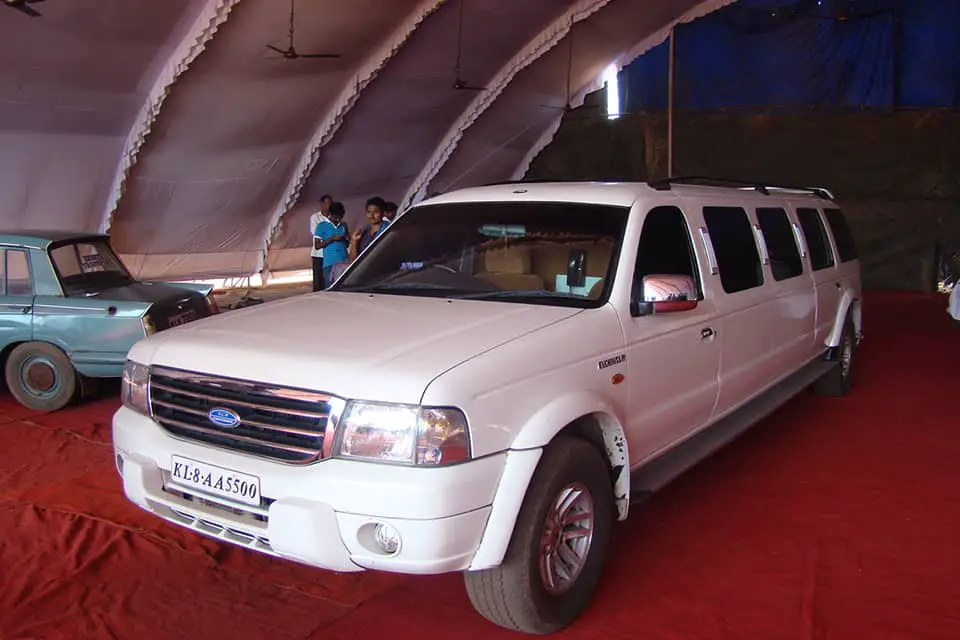 Ah, the limo. For most of us this is a luxury we only have the excuse to use on a few special occasions and a wedding is definitely one of them. Black or white? What style? How Long? How much space do you need? Which services around you offer the best pricing? How long will you need them? How many people do you need to be transported in the limos? Can others be transported in another vehicle that might be cheaper?
These are all questions to consider when deciding whether to go with limos for your big day.
Make sure you consider a wide range of companies in your area and ensure the company is reliable. Getting reviews from friends who might have used their services in the past and checking out the vehicles they plan to use for your event ahead of time are all important considerations.
If you are going for a luxurious and classy vibe for your wedding, this is probably a perfect option.
3. A Rented Luxury Car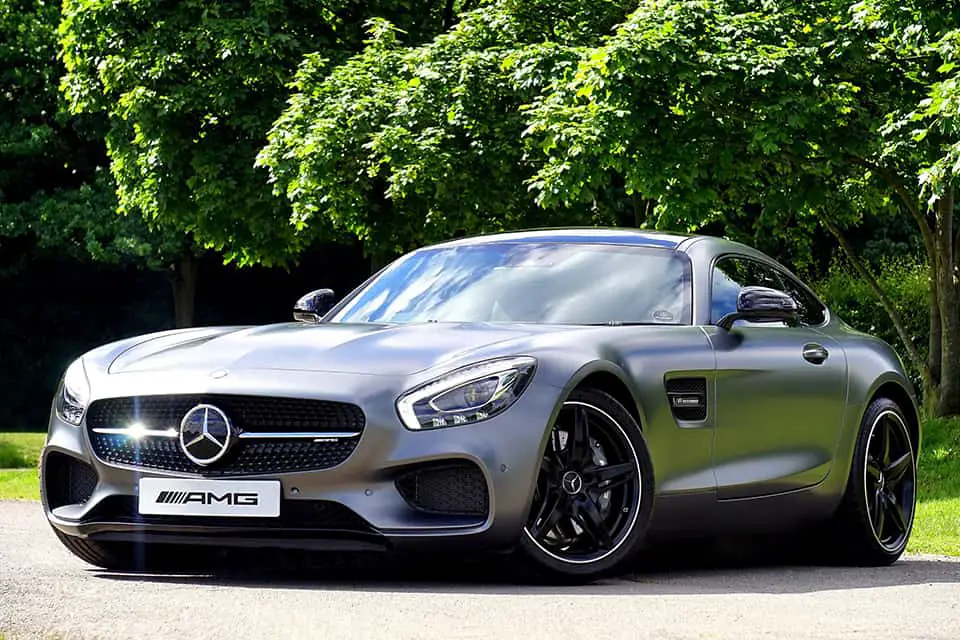 Maybe you want to go for something in between your own car and a limo – something a little more unique than a traditional limo, but still classy and elite.
Maybe your own car is not in the greatest shape, or you just want you big day to feel different than a typical trip to the grocery store.
Rent a car that is a little more special than your every day ride to bring an exciting energy to the day without going the typical limo route, which might be overpriced and too large for your needs.
Renting a fancy car you or friends and family can drive themselves will make the day special while still balancing the budget.
4. A Bus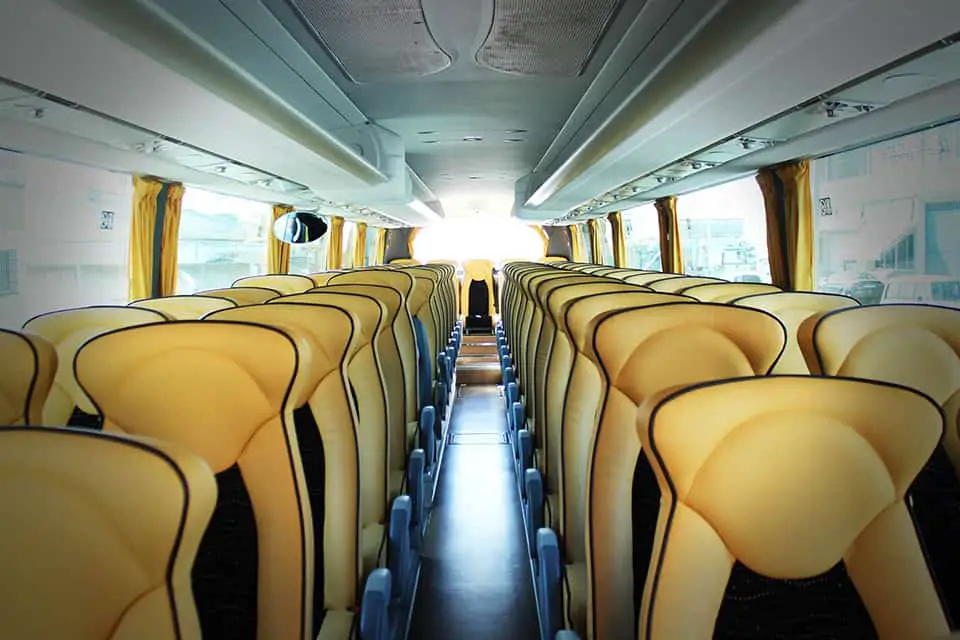 A very fun option! Start a party before the party even starts by making your way to the venue along with all your family and friends. This can be a very reliable and efficient option to make sure everyone gets to the venue on time and so you can spend time happy and excited with your closest loved ones.
Do you have friend that is always late to everything but serving as a bridesmaid? Make sure she is on time by making sure she comes with you.
When picking a bus, make sure you consider all your options and choose a reliable company. Get recommendations from your friends and make sure you check out the vehicles before committing to a company.
You want to make sure the interiors are similar to the vibe of the wedding. You also want to make sure they have enough seating and space to be a viable option for your party.
5. A Horse Drawn Carriage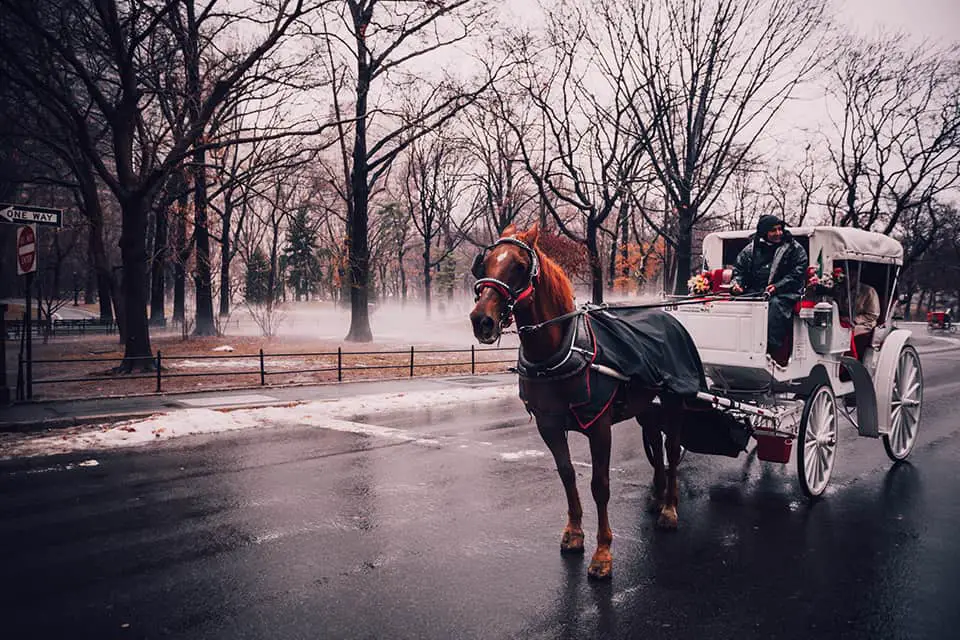 Ready to be a princess and ascend your throne? A horse drawn carriage might be the the perfect ride for the fairy tale dreams most of us possess.
This is your big day and if you want to arrive or leave by old-timey horse drawn carriage, go for it!
How often will be get a chance to live out our princess dreams?
We can not all be Megan Markle, but with some legwork, research, and planning, you can have a horse-drawn carriage at your wedding.
6. A Motorcycle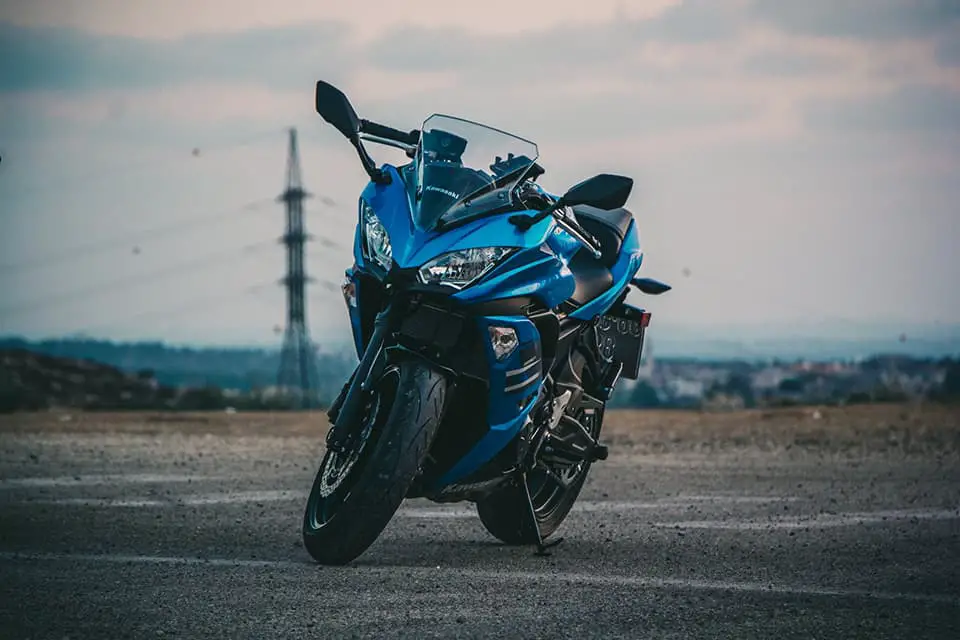 Feeling edgy? Do you or your spouse know how to drive a motorcycle? Ride a motorcycle from your wedding! This is a spunky and unique option that can feel very personal and memorable. You probably will not be riding a motorcycle unless you have plenty of experience on one, meaning you probably own it. This means you can avoid the hassle of working with and relying on any sort or rental company and make a special vehicle to you a part of your wedding day.
7. A San Francisco-Style Trolley
Similar to the bus, but a San Francisco-style looking trolley can bring a specific look and vibe to you wedding atmosphere.
Aesthetics are important, so it can be useful to consider what you want the look of your transportation to look like as well as balancing the amount of people that need to be transported.
Singular, classic, and old-timey, this option will leave guests with a lasting impression.
8. A Horse
It is tradition for animals to play a role in wedding in different cultures. In America, for an equestrian bride or groom, this would be a great way to bring a bit of themselves and what is important to them into their big day.
It can be a little high maintenance to have a living creature at your wedding, but with some work beforehand, you can find a reliable place from which to borrow a horse or a reliable trainer to handle the horse while the ceremony is happening.
9. A Classic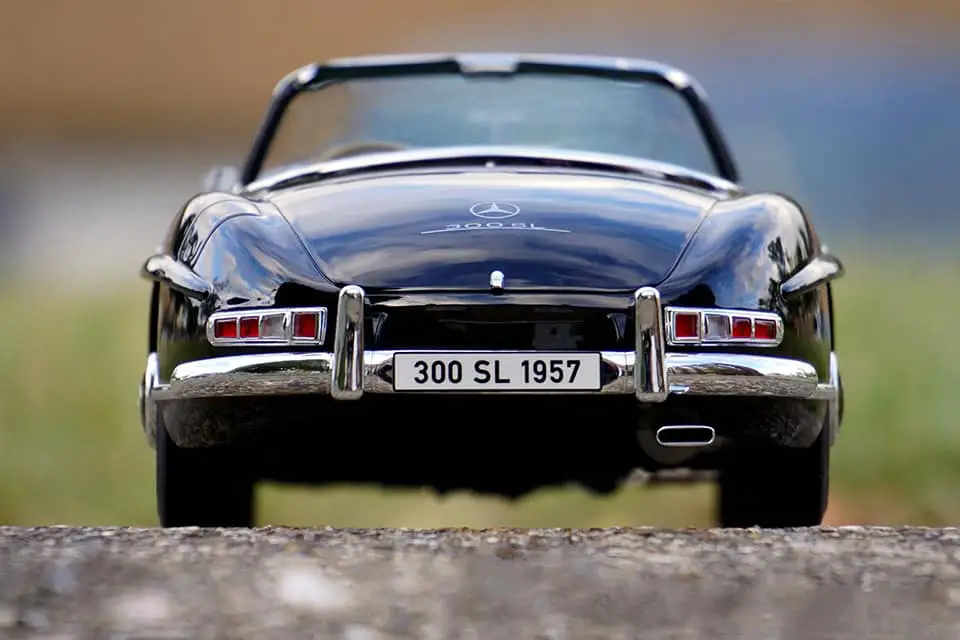 Going a little old school can make the transportation you use on your wedding day a lot more memorable years from the date.
Weddings are roped in tradition, so why not lean in and find transportation with the beauty, grace, and elegant funkiness of a time passed?
For a couple that is a fan of cars, this can be a perfect option to capture their unique personalities and contribute to a classic aesthetic.
The Takeaway
There is an immense amount of options available for couples on their wedding day in terms of transportation, and some very great options that do not have to break the bank.
A bus might be efficient for transporting a large wedding party, and for a more casual feel, going personal and taking your own car is also a great option.
There are also many rental options available, such as ordering a limo or a classic car. These are great and luxurious choices as well.
It is important to consider all the aspects of all the options, such as reliability and cost.
Before making a decision, be sure to  to visit the different providers and see what deals they can offer you. Do your research and come prepared with what you want and what you are open to hearing new ideas about. The professionals have probably done it before and suggest ideas that have been successful in the past.
Ask your friends what they have done and what their experiences were. First hand stories are the best experiences to learn from and take advantage of that.
A wedding should be a stress-free event.
Though the lead up and planning is not always so. Make sure to consider what mode of wedding transportation will make you most as ease on the day of the wedding. It should be a fun, special day, and the mode of transportation that is most unique and comfortable to you and your fiancé is the mode of transportation you should go with.
From limos to classic cars to horse drawn carriages to busses, the wide array of options would surely cater to every couple's wedding needs.