*This post may contain affiliate links. As an Amazon Associate we earn from qualifying purchases.
How to Pick Your Wedding Videographer
Flowers and centerpieces are temporary, videos are forever – especially wedding videos.
If there is anything that leaves a lasting impression of a wedding (other than the marriage of course!), it is the wedding video you make your friends and family watch, even though they attended the event just months prior.
And then it is the thing you revisit years later on your anniversary. You do not want this timeless keepsake of your big day to be anything less than perfect.
Picking a wedding videographer can be a high pressure, high risk decision. You do not want to excitedly revisit your wedding video only to find out the videographer cut off people's heads or missed important moments of the big day, capturing only part of the experience.
Your picture perfect day should be should be captured picture perfectly by picking the perfect wedding videographer beforehand.
This might take a lot of research, meetings, and soliciting recommendations from friends and family that have been through this experience before.
There are a lot of variables that go into choosing the perfect videographer for your special day, but this task does not have to be as daunting as it might seem.
Break down this huge decision into a checklist of smaller tasks that you can easily accomplish and you will find a videographer to successfully preserve your wedding memories for years to come.
5 Things to Consider When Choosing a Wedding Videographer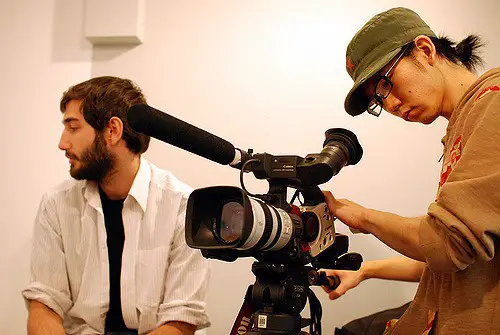 1. Package
What specific packages is this videographer will to offer you? What is their hourly rate? Are they willing to stay longer if the ceremony runs long?
There are so many important aspects to consider and correlating questions to ask when considering wedding photographers.
It is important to compare the packages different videographers are willing to offer.
In some cultures, there are many different events over the course of time that make up a wedding. Would the videographer be able to cover all of them? Are they available? You do not want to have to hire multiple different videographers since that would lead to continuity and vibe issues when looking at the videos post events as well as when editing.
You want to be able to have some videos that cover the entirety of events as well as each event. It can be jarring to watch the videos later when they are shot by multiple different videographers.
Make sure the videographer you hire is available and willing to offer you all the all the features you need to make sure your wedding video turns out top notch.
Have all your questions answered fully and in detail beforehand so there are no issues, arguments and stress afterwards, when nothing can be done to change it.
2. Pricing
You do not want to blow the budget for your marriage by spending too much on the wedding.
Comparison shop and ask for recommendation from friends and family. Expensive is not necessarily best and you will be much happier to save some money.
Ask exactly what the videographer is charging for and consider where you can make some cuts.
Conversely, if videography is one of the most important parts of the wedding for you, then make sure you budget for it accordingly and early, so you can make cuts elsewhere.
Ask different videographers exactly what they are offering at each price and also check if you have any friends or family that would be willing to do it for cheap or free.
Make sure you ask these questions early and thoroughly. You do not want to be hit with surprise bills and fees while enjoying your honeymoon. Check these details and get them in writing as early as possible and check with friends and family who have used this vendor before and make sure they are professional and reliable.
3. Coverage
What events do you need the videographer to cover? Do you want them to tape the bridal shower? Just the wedding ceremony?
Detailing early and deciding exactly what you want cover is important, before you even start talking to and considering videographers.
Knowing what you want before talking to vendors is integral. That way, you can stand your ground in case anyone tries to upsell you.
Know what you want.
Will the videographer offer you a better deal if covering more than one wedding event? Do you want them to cover more than one event. What products do you want in terms of deliverables? And the timeline?
Are you willing to compromise on any of the coverage, or are you willing to spend more to get everything you want? Do you want them to cover you preparing and getting ready for the event?
Make sure you have all these laid out beforehand and that this videographer has the capacity to fulfill it.
If you want very detailed coverage of all events and preparations, make sure you pick a videographer with available dates and that they are aware of all the dates they need to be available.
Or have a team that would be able to cover it.
4. Editing
An integral part of a wedding video is the editing, and the majority of that takes place after the wedding – when you thought you would be done!
What are you expecting in terms of editing? Do you want to see the footage before the videographer starts editing? Do you want to be a part of the process and be able to discuss edits and what footage you would like included before the videographer starts their editing?
Make sure you understand the videographer's process and trust them to produce the quality of video you desire.
Make sure you check out their previous work and that it aligns with the vibe for which you are striving.
Make sure you check with couples that have previously used this videographer and how effectively and gorgeously they captured that couple's big day.
Detail exactly what you want and make sure the videographer you choose is capable of delivering of exactly what you want. Also, make sure the videographer has the vision and creativity to  make your wedding video absolutely unique and perfect.
You want your wedding video to be personal and ring true to the experiences of the day, so pick someone who can capture that.
5. Timeline
This is so important – you have to find a good balance with your wedding videographer.
You are sure to be impatient post wedding to see the magical wedding video the videographer has promised you.
But they need time to put it together.
You want a quality video, and it takes time to watch all the film and edit together a timeless video you will be able to enjoy for years and years.
Make sure you discuss this in advance.
Do you want to see the raw footage? How long will it take the videographer to share that with you? How long will it take them to edit the footage? Will they send you edited videos for each event, or just one that covers an overview of all of them? How long will each step in this process take them?
Get the answers to these questions beforehand so you know what to expect.
You do not want to be waiting in irritation and anticipation. Following up repeatedly and rushing the videographer into a lower quality video are not ideal for either party.
Clear these issues and compare different videographers' timelines to find which videographer is perfect for your needs.
The Takeaway
Picking a wedding videographer is a huge decision that will have effects rippling much longer than any wedding ceremony or reception.
It is a big decision and you want to pick a videographer that fits with the vibe of the wedding you are organizing and you will enjoy looking back at with friends and family and at wedding anniversaries with your spouse.
It is a tough – but not impossible to get right – decision.
While it is a daunting choice to make, it can be broken down.
Think about the smaller, specific aspects of wedding videographer and figuring out whether each candidate meets your needs makes this decision much easier to make.
Can they deliver on the features you need? Are they in your budget? Do they seem professional and reliable? Can they give you new ideas for your wedding videography that you did not even originally consider?
These are all important questions to consider.
Asking friends and family about their thoughts on this integral decision for your wedding day can be immensely helpful in making a choice. They may have more experience, recommendations, and ideas when it comes to wedding videography.
Do they have a go to videographer for family events? Have they head how beautifully one videographer edits the footage for wedding they shoot?
Taking their opinions into account can help you preserve your special day for years and years to share with all your loved ones and each other time and time again.