*This post may contain affiliate links. As an Amazon Associate we earn from qualifying purchases.
Planning a wedding can be overwhelming. You have to consider the venue, DJ, catering, flowers, invitations, and more. Luckily, there are excellent wedding planning sites out there to help you plan your big day. Keep reading this Wedding Wire review to learn what to look for in wedding planning websites and which is the best in the business.
What Is Wedding Wire?
Wedding Wire is a free wedding planning site. Creating your own custom wedding website with Wedding Wire takes just a few minutes. It even comes with a convenient mobile app, so you can plan anywhere with internet access. This vendor and venue database is truly a one-stop shop. It features 2.5 million reviews of over 200,000 local listings by real brides who have been in your shoes.
Types of Wedding Planners
While researching our Wedding Wire review, we were impressed by the number of resources Wedding Wire offers. One of these resources is local wedding planners. However, no two wedding planners are the same.
There are three basic types of wedding planners.
1
If you feel fairly confident in your event planning abilities, you may hire a wedding planner to help you with certain tasks, like getting the most affordable barbecue caterer or working with the florist for your wedding.
2
There are also wedding planners who help you with every single detail of your wedding, from the bows on your party favors to the napkins on the tables at your reception.
3
Finally, there are wedding planners who help you only on your wedding day after you have already hammered out all the details.
Product Specs
Wedding Wire is the 2019 Couples' Choice Awards winner, and for good reason. The site allows you to easily manage your wedding vendors, organize your guest list, manage your checklist, get advice from others in their community, create a free, personalized wedding website, and find a couple's registry or website. Furthermore, they offer an accurate wedding cost guide.
Pricing
While wedding planners can cost between 10 and 20% of your total wedding bill, charging between $500 and $2,000 for coordinating only the day of your wedding, wedding planning websites are free to use.
Wedding Planners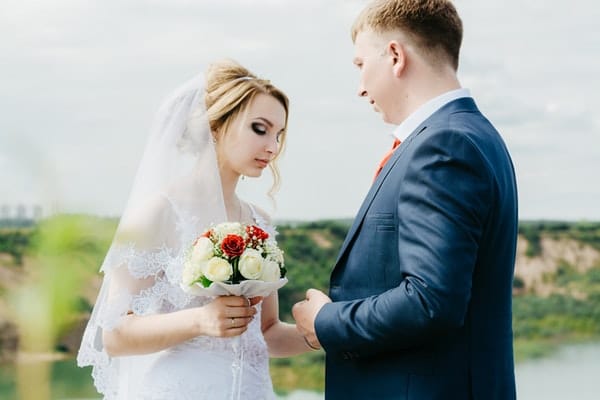 image credit: Pexels
How much wedding planners cost varies wildly with factors including whether you live in a large metropolitan area, the breadth of service you want, and the experience and demand of the wedding planners. If you plan to hire a flat-fee wedding planner, budget 15% of your total expected wedding bill.
You should expect to be charged a flat rate for a certain number of hours and a different rate for each additional hour after your package. Full-service wedding planners can help you with every detail of your big day from the engagement ring to spirits and last call at your reception. If you just need a sounding board for ideas, wedding consultants can be hired for around $200 per hour.
How It Compares
For our Wedding Wire review, we picked a few similar products available on the market to see how they compare.
Zola
The Knot
Wedding Happy
Wedding Wire
Creating your own custom wedding website with Wedding Wire takes just a few minutes. It even comes with a convenient mobile app, so you can plan anywhere with internet access. This vendor and venue database is truly a one-stop shop. 
Ease of Use
5 stars
No Wedding Wire review would be complete without mentioning how easy this site is to use. If you feel overwhelmed, you can quickly and easily search the site and narrow your results by rating, price, location, or type. We also loved that the front page of the site featured local vendors and actual local weddings.
Selecting your perfect venue could not be easier. They have options ranging from boats and rooftops to barns and farms, wineries, museums, and mansions.
Range of Services
5 stars
Perhaps the most crucial part of this Wedding Wire review is reiterating that this is truly a one-stop shop. From discovering the latest trends produced by top designers for both brides and bridesmaids to finding photo booths, limos, travel agents, and DJs, you will have no trouble finding everything you need to make your wedding perfect.
Design Quality
5 stars
The more we researched for this Wedding Wire review and dug into the site, the more impressed we became. Finding the best wedding vendors was simple, from venues to day-of coordinators and long-term planners. The planning tools, from budgeting tools and cost guide to checklists and guest lists, were outstanding.
We liked the quality of the free websites, and the functionality blew us away. When guests respond to your RSVP on your website, your Guest List is automatically updated. This saves you a significant amount of time. Your registry is linked to your website, making it easy for guests to buy you gifts. Furthermore, personalizing your website and matching it to the theme and color scheme of your wedding, invitations, and save-the-dates is easy. Finally, we loved the Recommended Accommodations section which allows you to share local hotel deals and provide special discounts to your out-of-town guests.
Zola
Zola is another top-notch online resource for wedding planning. It is the best site for registering for what you really want. While any bride could use a tea pitcher or pillow from Target, Zola allows you to request specialty registry items, such as a charity or honeymoon cash fund, BioLite camp stove, or Sonos sound system.
We loved the crowdfunding option available so guests can easily pitch in together on more expensive items through group gifting. The site also allows you to receive a 10% discount on all items on the site for up to a whole year after the day you tie the knot.
Ease of Use
4 stars
You can create a free custom wedding website with Zola in three simple steps. First, pick a design that suits your style, esthetic, and wedding theme. Second, personalize your chosen template with travel information, stories, a photo gallery, your wedding registry, and details about your wedding. Third, include your URL on your wedding invites and save-the-dates. Guests can even RSVP on your site, taking the pressure off your shoulders so you can focus on more important tasks.
Range of Services
5 stars
We were impressed by the range of services Zola offers. The website includes 221 free wedding website templates. Your customized website will allow you to create the perfect suite of matching wedding invitations, save-the-dates, and more. It is also a one-stop-shop for guests, allowing them to RSVP, shop your wedding registry, and much more.
Design Quality
3.5 stars
The website templates are above average in quality. Furthermore, they are quick and easy to customize. In mere minutes, you can drag and drop photos, details, and fun stories thanks to their simple website builder. However, we had mixed feelings about the custom website. We liked that you could edit your privacy settings to make your website private. However, we were not impressed that you have to pay for a custom domain.
Overall, we felt the best feature this site had to offer regarding your customized wedding website was that you can edit your site even after you publish it. This means you can create and publish your website even if you only know the date. You do not have to wait until you have hammered out all the details, such as dress code, menu, time, and venue.
The Knot
The Knot is a wedding planning website that allows you to create a custom wedding website with the help of over 100 templates and a few simple clicks. You can personalize everything from the URL to the cover photo and color palette. Your website will be so user-friendly that even your grandmother will have no trouble RSVPing.
Ease of Use
5 stars
The Knot is very user-friendly. After answering just a few quick questions, including your budget, engagement and wedding dates, and approximately how many guests you want to invite, the planner instantly provides you with deals on local wedding vendors.
Range of Services
5 stars
The Knot offers a massive array of wedding vendors to browse from. These range from wedding photographers and videographers to reception venues, florists, wedding bands, and DJs. They even help you find bridal salons, beauty experts, wedding cakes, and jewelry!
Design Quality
4 stars
We were very impressed by the quality of the website templates. The themes are beautiful and you can get wedding invitations and save-the-dates to match the theme of your custom website.
WeddingHappy
WeddingHappy is a free app that works as your virtual personal assistant. It is the best wedding planning resource for brides-to-be who do not want to invest in a wedding planner. The app comes loaded with tasks to help you complete your to-do list and sends you alerts as deadlines approach.
With this app, you do not need to hire someone to remind you to pay the deposit for the DJ, mail your invites, or pay your caterer. Furthermore, you can upgrade to WeddingHappy Premium to share your "event" with your mother, nosy mother-in-law, maid of honor, and fiancé, so everyone is aware of where you are in the event planning stage.
Ease of Use
5 stars
Wedding Happy could not be faster or easier to use. After a short quiz to get to know your style and budget, your wedding plan will be customized for your unique needs in seconds. The app is very easy to navigate and the home page allows you to easily see the next three deadlines you have coming up, as well as what you accomplished last. This can help you feel motivated and organized rather than overwhelmed and confused.
Range of Services
2 stars
Wedding Happy is a decent app, but we feel there are much better wedding planning tools out there. First of all, you have to pay to share your wedding with other people. Furthermore, it does not allow you to create a custom website for your guests to use to RSVP or purchase items from your registry. There is also no desktop version of the app. Finally, the biggest nail in the WeddingHappy coffin is that the Android version of the app was less impressive than the iPad and iPhone version. We felt there should have been more consistency between the two platforms.
We liked the budget feature of this app and we liked that the app automatically stretches out your tasks depending on your anticipated wedding date. This way, whether you are planning for a wedding that is six months out or 15 months out, you will not be overwhelmed arranging transportation, tasting wedding cakes, and hiring bartenders on the same week. If you have no idea where to start with your checklist, it even offers suggested tasks, such as hiring a DJ and booking a venue. With that being said, the app really lacked the resources that other wedding planning tools offered.
Design Quality
4.5 stars
We liked the layout of this app. It includes a dashboard that gives you a high-level view of your wedding planning progress. The home screen includes a pie chart that shows you at a glance what percentage of tasks you have completed, how many items you have checked off, and how many tasks you have left to complete. It also counts down the days to your wedding, which is very exciting!
Wedding Wire Review: The Verdict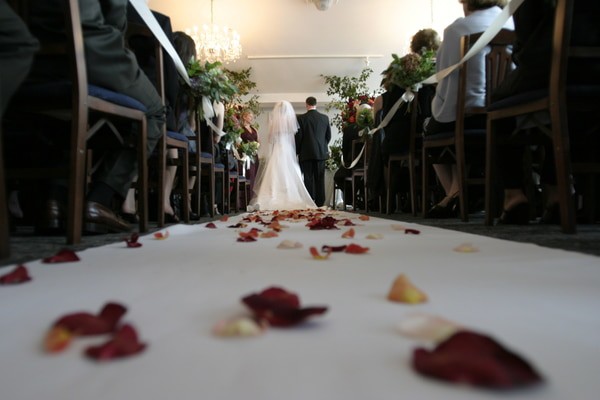 image credit: Pexels
Overall, we had to end this Wedding Wire review by giving Wedding Wire our seal of approval. We rated it 5 out of 5 stars. We loved that it was free and quick and easy to use. We also loved that it allows your bridal party or event coordinator to help create the website. The free app is great for planning on the go, and the planner feature is comprehensive.
Based on your anticipated wedding date, it creates deadlines for every detail from the deposit on the venue to buying the flowers or succulents. The alerts even extend past your wedding day, reminding you to send out thank-you notes, update your Social Security card, and upload photos. From the automatically updating Guest List to the wedding registry choices, no other wedding planning site can compare with Wedding Wire.
feature image via: Pexels