*This post may contain affiliate links. As an Amazon Associate we earn from qualifying purchases.
How to Pick Your Wedding Caterer
If you decided on a venue that is not going to provide catering, you may need to find your own wedding catering company.
Finding the right one can be challenging depending on how you go about it.
It's easy to see how finding the right caterer can be the most difficult thing to do on your wedding checklist, so we're going to break it down for you so you can see exactly what you need.
What Does a Caterer Do?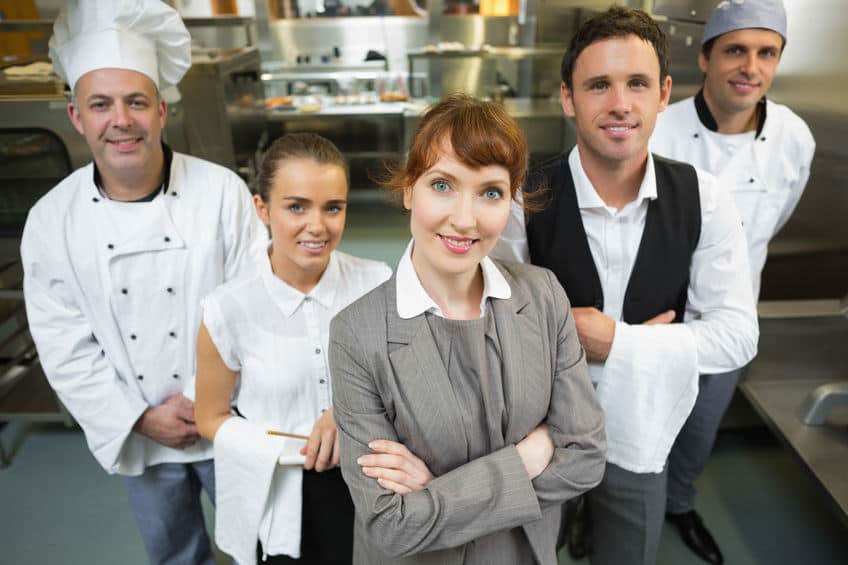 Caterers are expected to provide you with ideas and suggestions for the number and type of appetizers just to start with.
They'll also need to tell you how many courses they will provide in addition to telling you how many waiters, chefs, and other important staff members will be needed to run everything smoothly.
As the person doing the hiring, you'll need to provide caterers with details regarding how many people they should be expected to feed or if it's relevant, the theme to your wedding.
But they have a completely different job.
What Do You Need to Know Before Picking a Caterer?
You'll need to know at least an estimate of the amount of people you'll be expecting at your wedding. Honestly, you don't even really want to begin to talk to caterers before you have an estimate of how many mouths will need to be fed.
Without the number, there is no way to get a truly accurate quote.
Knowing your budget is huge. You need to know what you're okay with spending before you start looking. It's a great idea for you to create your meal budget beforehand because wedding catering companies will be better able to adapt to what you can afford to spend to what they can offer you.
You'll also want to ask your venue if there is anyone that they prefer you to work with. Venues often have lists of preferred vendors which means the vendors will be familiar with the site and you know they'll be up to par.
If you can't find a vendor you like on the venue's list, then you can still ask the venue if they have any requirements for caterers so you can search for another one.
Where Can You Find a Caterer?
There are a few places you can find a caterer. You can start by checking with friends that were married recently if you happen to know a few. There are also websites you can check to find recommendations.
Sites like The Knot have a fantastic list of caterers that are found in your local area, in addition to having client reviews that you can also check out.
Other suggestions include contacting other hotels or other event facilities to see if they have a list of vendors that they've worked with before.
Since most of them have a list of preferred professionals they like to work with, every company on their list has had a chance to establish their reputation.
You may also consider going to your favorite restaurant and asking them if they cater for special events. Many restaurants do offer catering services, although they may not advertise these types of services on a regular basis.
If they don't offer wedding catering, then they'll probably at least be able to point you in some sort of sense of direction to a restaurant that does have the kind of food you're looking for.
Another route to go that would work well would be to talk to the other people you're working with for your wedding. Photographers, wedding planners, florists, and everyone else that goes into putting together a wedding may have heard of someone or some place that can help you out.
Should You Pay for Caterer Tastings?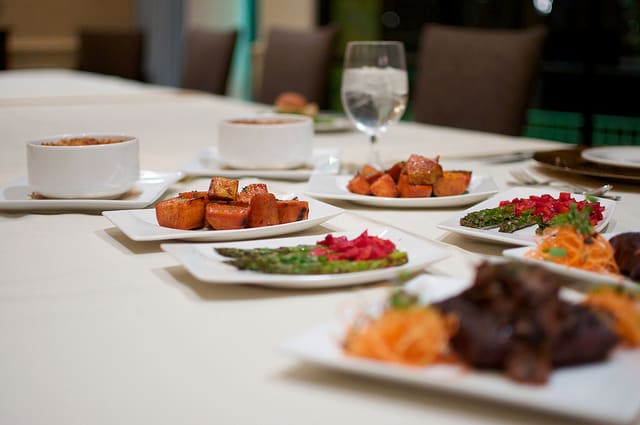 Tastings are tricky to come by, especially since the vast majority of caterers will not actually allow tastings until after you've agreed to hire them.
Naturally, you may not want to do that if you've never had their food because you may worry about the taste.
You'll be happy to know that you may be able to get around their typical requirement.
As an example, if you can find the time to attend a bridal expo, that would be a fantastic opportunity to survey the tastings that various companies offer. It won't be free to attend, but it will be considerably less to pay an entry fee and try a few caterers as opposed to trying a single tasting and paying more.
Something else to ask prospective caterers is to find out if they offer monthly dinners for potential clients. If they do, you might be interested in discovering when and where so you can try it before you commit to hiring that caterer.
If the caterer in question does none of the above but you're still interested in possibly hiring that wedding catering company, ask them if they would be willing to off you a mini tasting.
Mini tastings typically have 3-5 dishes to be tasted. A reasonable cost would be what you can expect to pay for a nice meal out – around $50 per person.
On the off chance that the caterer still will not allow a tasting without having signed a contract, then you can go one of two ways.
Forget about that caterer and look for another one. If you'd rather go with the caterer, then before you sign the contract, make sure that you see something in writing that allows you to exit the contract if you end up not liking their food.
What is the Cost to Cater a Wedding?
Cost is a big factor, so after you know your budget, don't forget to reach out to multiple caterers.
Get as many proposals as you want along with a list of what they will each provide you with your wedding catering job.
Something else you'll need to keep in mind is the alcohol that may be served at your wedding reception. Compare the cost of alcohol between caterers because you may decide to get everything you need elsewhere even if the caterer is willing to provide a bartender.
Above all else, you need to make sure you compare all the costs related to the food and drinks you expect to have. If you don't like what you're getting from one caterer, you can always choose another one that fits your needs and your budget better.
Questions You Need to Ask Your Caterer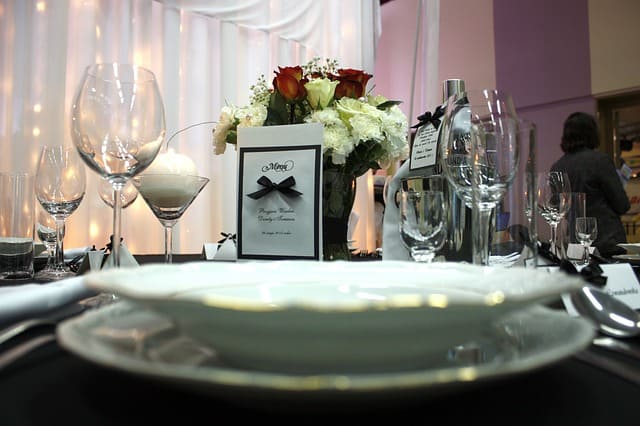 Don't forget to ask about linens, chairs, tables, or even dinnerware if your venue will not be providing any of that. Most caterers will offer these services, but if they don't, they will at least be able to point you in the right direction to find someone who will.
Also, ask the caterer for references. Don't stop there, though. Be sure to check reviews online, and their social media page if they have one. Places like Facebook are great to check when you're looking for customer reviews. People that aren't happy with a caterer are going to let them know and let everyone else know, too.
Things to Avoid with Wedding Caterers
While actual food is absolutely important, the most significant things you'll need to pay attention to are the food service as well as the meal presentation.
If the staff is poorly trained or unable to meet the demands of your wedding, then you're going to be better off bypassing that caterer.
t the same time, if the meals look sloppy on your plates, that's a memory that is also best forgotten.
Another thing to avoid would be going with whatever food fads happen to be the thing right now. Don't try to make things modern and contemporary because you're trying to keep up with the Joneses.
The money that you may be spending just to have the latest thing is not really going to make things better. Instead, trust yourself to know what is going to work because it's the right thing – not just because it's the most expensive thing.
A Few Last Words
When you finally decide to contact the caterers that you're thinking about hiring, try to see if they'll be willing to schedule a tasting right from the start.
You'll also want to request at least a rough outline of cost per person for your preferred menu.
Get an explanation of what the fees will be to include alcohol, any rentals, services, meal presentation, and possible alternate options.
Also, don't forget to check references so you know what you're getting yourself into.
You need to be your own advocate to your caterer so your needs are met or exceeded. If you do that, then you'll be happy with the way the meal turns out on your wedding day – and so will your guests.