*This post may contain affiliate links. As an Amazon Associate we earn from qualifying purchases.
A wedding DJ can be the highlight of any dull wedding reception and if you want to hire the very best in your local area, you will need to be willing to pay the price. In this industry, you often get exactly what you paid for with the most expensive DJ's having the best equipment, playing all your favorite tracks and having a great attitude that helps get the party started. Choosing an affordable DJ could result in listening to an outdated playlist and little to no communication to help get the crowd involved.
What Is Considered Reasonable for a Wedding DJ Cost?
You don't want to spend a majority of your wedding budget on a DJ that doesn't live up to your standards. But at the same time, you want to have a reception that is memorable and fun so that all of your guests will have a great time. This is your way of thanking them for helping you with your wedding and being there for the ceremony. Your parents, best friends, and family members who traveled a long distance deserve the very best.
If you have never hired a DJ before, it is likely that you have no idea what it costs to hire a decent one. This can be nerve-wrecking because you may think you are getting a great deal only to find out that you spent too much money on an amateur. Therefore, it is important to take the time to do a little research of your own and find out how much should a wedding DJ cost.
Wedding planners and event experts agree that this is one of the most popular questions they are asked by brides and grooms. And it actually is not an easy question to answer, mainly because there is so much misinformation out there.
The average cost for a 4-hour wedding reception, for example, will vary based on the level of quality you want. No one wants to pay for a tacky wedding DJ that will only play a certain type of music and never takes requests. So here are a few estimates to consider.
For around $200 to $300, you can get an inexperienced DJ that is likely only working part-time for some extra cash here and there. DJ-ing is their hobby, not their occupation. And while they may take pride in their craft, these DJs are usually not very good.
For $400 to $600, you can get a DJ that will have more experience than a beginner, but it is highly likely that they are also just a part-time DJ and do not dedicate their spare time to improving their skills.
For $1k to $2.5k and up, you can get a professional, well-trained DJ who has more experience than the others mentioned here. They will often work full time as a DJ and that means they are constantly working on their craft to find new ways to improve it.
If you can afford it, the wedding DJ that costs between $1k and $2.5k would be your best option. But unfortunately, most couples can 't afford that type of professionalism. Unless you have someone else footing the bill for your wedding, you may have to pass on the professional wedding DJ.
You also have your wedding budget to consider when you start looking for a wedding DJ. If you haven't paid for all your decorations, your dress, the caterers or the venue yet and you are considering hiring a very expensive DJ. You could run into some issues. Make sure that you filter in the Wedding DJ costs before you make a final decision on who you want to hire.
How to Hire a Wedding DJ While on a Budget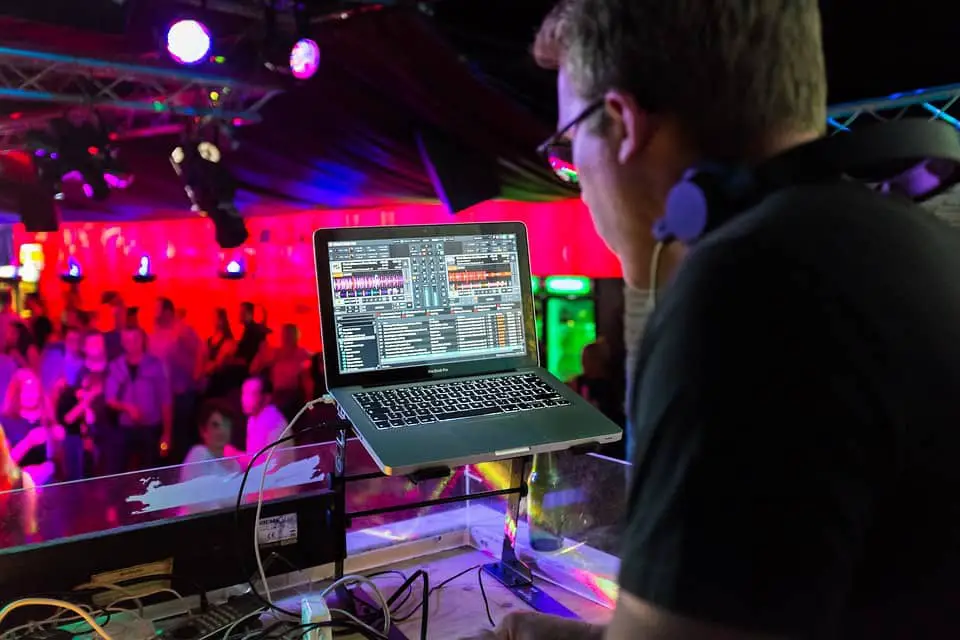 If you are on a tight budget for your upcoming nuptials, you can't expect to pay out more for a wedding DJ than you do for other important services such as catering or the venue. Here are a few things to consider that may help to decrease your spending so that you can have the perfect wedding and the perfect DJ at your reception.
Consider Hiring a Friend
Many people are amateurs DJs and those that you would pay between $200 and $600 dollars to for a four-hour session could turn out to be amateurs that aren't any better than your best friend's boyfriend who DJ's at the local club every weekend. Consider hiring someone you know to play at your wedding and you will have the peace of mind in knowing that you are helping out a friend and your reception is in good hands.
Conduct Interviews
You can take advice and recommendations from friends and family members all day long for wedding DJ's they would suggest, and it's not going to do you any good if you don't take the opportunity to speak with these people yourself before hiring them. If you want someone who will just play your favorite songs, you can hire any inexperienced DJ for that. But if you want someone who can talk to a crowd and get people up and moving, then you need to hire a DJ with a certain level of experience up on stage. By interviewing a few of your top choices for wedding DJ's beforehand, you will help narrow down your choices and find a DJ that has a winning personality at the same time.
Go to a Show
If you are considering hiring a DJ and want to find out exactly how good they are, go to a show they are doing, if they do live shows. Many DJs will work at local clubs on the weekends and that is a great opportunity for you to find out more about their talents and skills while you have a good time as well. Make it a girl's night out or a date night with the fiancé so that you can both get a sample of what to expect at the reception.
Do You Really Need a DJ?
If you are planning a small wedding and reception with limited guests, there really isn't any need to hire a DJ at all if you don't want to. You can still have music at your reception using a good sound system and a reliable friend with a great playlist of songs. You can still have your father/daughter dance and your first dance with your spouse. If you are wanting to save money and cut costs on your wedding budget, choosing to not hire a DJ at all could be a good solution.
Choosing the Right DJ for your Wedding
There are a few things that you should keep in mind when it comes to hiring a wedding DJ. Here are a few facts about wedding DJ cost.
The average cost for a wedding DJ is $1k.
Most couples spend between $750 and $1,400 for a wedding DJ.
The lower range prices for DJ's is $450 or less.
The higher range prices for DJ's is $2k or more.
Services Offered by a Wedding DJ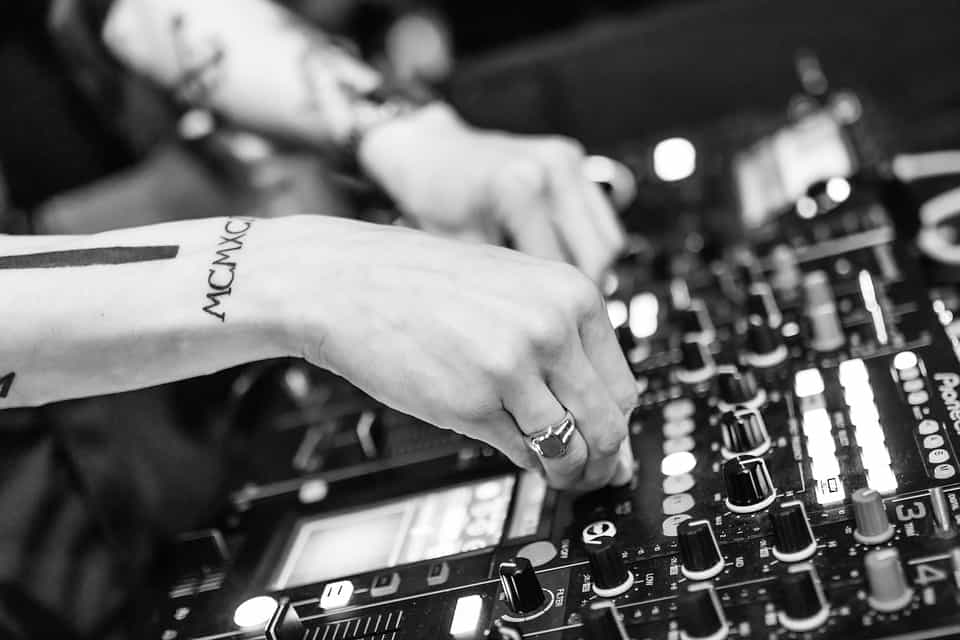 A wedding DJ will play music all throughout your wedding reception. They may even play during your ceremony if you don't have any musicians scheduled. Of course, this would be for an additional fee. The DJ can also serve as the emcee for your reception. They will make announcements to the crowd, introduce speakers such as the Best Man or Maid of Honor and basically take control of the show.
The qualities of a great DJ include an outgoing personality, energetic, being able to read the crowd and in-tune with the latest music hits as well as old favorites that are appropriate for a wedding reception. They know what songs are perfect for father/daughter dances and the first dance between the bride and groom. They also know what songs to play to keep the crowd entertained and moving.
Remember that the high cost of a wedding DJ isn't just paying for their time playing music. They took the time to put together a witty script for your wedding and a playlist. They also had to travel to the reception site, set up and use their own equipment. Your bill also covers their operational costs and any insurance they may have on their pricey equipment.
What Determines a Reasonable Wedding DJ Cost?
Hiring a wedding DJ can be tricky because many of us have never had to do it before and don't have anything to compare the price to. Fortunately, there are plenty of review websites available online, but if the DJ you have in mind is just getting started, they may not have many reviews for you to check out. It is often best to go with a DJ that has years of experience, one who is outgoing, and one who DJ's full time instead of part time. You know that they depend on this work to make a living and therefore they will strive to do a good job for all of their customers. Always be sure to do a short interview with the DJ's you have in mind and make sure that their personality and attitude will work well at your wedding reception.
You May Also Like
[amazon box="B0746FFTXV,B06VX2X433,B06ZZZRT2P,B072LD6XM3″ grid="4″]