*This post may contain affiliate links. As an Amazon Associate we earn from qualifying purchases.
The 10 Best Cake Cutting Songs for Your Wedding
Whether you've hired a DJ or made the playlist yourself, music is a key component when it comes to putting on an awesome wedding reception.
While the wedding ceremony is the time that you declare and solidify your love, the reception is when you and your guests get to celebrate it, and nothing keeps the party hopping like a good soundtrack.
In planning out your perfect playlist for the evening, you of course want to get in a good mix of songs that will get everyone on their feet and joining in, but it's also important to include a few slower, romantic songs for you and your new spouse to enjoy.
But apart from the overall mix, you also need to select songs for certain points in the evening. Such selective songs might be for the married couple's first dance, a father-daughter dance, etc. And, of course, a cake cutting song.
The importance of cake cutting songs can be easily overlooked, as it somewhat takes a backseat to other notable points in the evening. Some weddings don't even play any music at all during the cake cutting, instead focusing on the words of the bride and groom and whoever else may be speaking.
Yet a good cake cutting song can positively influence the course of the entire evening. The cake cutting ceremony is a unique moment of the evening: while both lighthearted and playful, often ending in the smashing of cake into one or the other's face, it is also incredibly romantic, symbolizing the first action they take together as a married couple.
Cake cutting songs should be able to capture and magnify this moment of fun and love, setting the tone for a wonderful evening and, hopefully, a wonderful marriage.
What to Look for in a Cake Cutting Song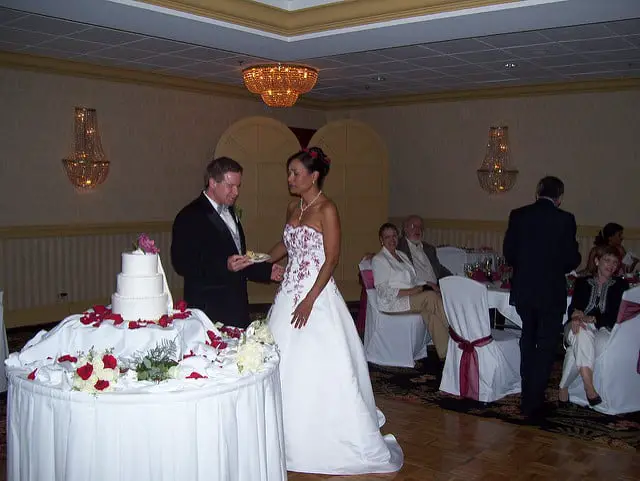 Not everyone may notice the song you play during your cake cutting, their attention more riveted on the new couple, waiting on the edge of their seats to see if there will be any cake-face smashing that this particular wedding.
With the right song selection, however, you can not only grab the attention of your guests but also enjoy it with your new spouse.
Cake cutting songs usually go one of two different ways:
You can try the candy/sweet-themed route, where you play on the nature of the cake. This is a fun and clever way to entertain your guests and get silly with your husband or wife.
The other route is generally a more serious approach, focusing on your shared love as you perform this symbolic action together, promising to support each other in your lives together. This kind of song will ideally be meaningful to both of you, and it may turn the simple act of cutting cake into an emotional and meaningful moment.
Songs about love don't have to be serious, of course. There are plenty of upbeat and peppy loves songs out there—many of which are on this list—that are great for creating both a fun a loving moment.
There is a tenuous third path, however, that combines both love and sweetness. Some couples may try to find a song that both captures the fun cake-theme and simultaneously expresses love, though this is a bit of tricky balance and one side may wind up outweighing the other.
How We Chose Our Songs
We chose the below listed songs based off some of the most popular (though not overplayed) wedding cake cutting songs over the past several years that happy couples have endorsed.
We've tried to provide a good mix of fun versus romantic songs, as well as varying genres so that you can find a good song for your wedding no matter what your tastes.
All of these songs are available on iTunes and other music download sites, so there's no need to worry about song availability.
Top 10 Cake Cutting Songs
This song by Natalie Cole is one of the most iconic on this list. It's been featured in romantic movies we all know and love such as The Parent Trap and While You Were Sleeping, and it has even been featured in commercials for dating websites.
While the overwhelming popularity of the song may seem a little much, there is reason for it. The song is upbeat and poppy, with memorable lyrics and a soulful fervor that ardently expresses the idea of love.
Your wedding guests are all sure to know it (with perhaps the exception of younger guests), and it will make the memory of your cake cutting stand out even more to them and, most importantly, to you.
"Marry You" is of course very on the nose for any wedding situation. The Bruno Mars song is both passionate and sweet as the lyrics detail a love of the same qualities.
Adding this song into the mix as a cake cutting song is especially poignant. The chorus contains the lyric "I think I wanna marry you," all the more impactful for the fact that you have just been married and are now committing your first act together as a married couple. And Bruno Mars' smooth and sweet voice of course doesn't hurt the mood at all.
This is another up-beat song about love that is a perfect tune to immediately celebrate your love with the cutting of the cake.
The theme of this song, accidentally being in love, makes it a particularly good choice for a couple that may have fallen in love in an unconventional way, or who didn't expect to care for each other so deeply. Whether in line with the theme or not, though, this song is still a great pick for any cake cutting ceremony.
With lyrics like "Well baby I surrender…there's no escaping your love" this song becomes even more appropriate, symbolizing the couple's complete surrender to their love for each other just a small time earlier when they said their I Dos.
In terms of why this song made our list, the title says it all. "Let's never stop falling in love" is a great message and motto to live by for any married couple, no matter how long they've been together.
Paired with the cake cutting, it speaks that though you will now have been married, you are committed not to let your romance die. The knife will not cut through your love along with the cake, but instead your shared action will tie you even deeper to each other as you promise to keep falling in love with each other.
This song is a little less well-known, but its elegantly slow pace with a bit of a dramatic flair make it a striking choice for the cake cutting song.
5. "Honey Bee"—Blake Shelton
This is one of the songs that's popular for cake cutting because of its play on the sweet nature of cakes. If you have a honey-themed cake or spring wedding this is a particularly adept choice. The song not only mentions honey but sugar and overall sweetness, making it a very appropriate song to be paired with the cake cutting.
This song is metaphorically sweet, as well, capturing a lighthearted romance that also makes it appropriate for a wedding. In this way, then, "Honey Bee" strikes a balance between the songs focused on love and on sweets.
This is an especially good choice if you're having a country-themed wedding, or just like country music in general.
6. "I Do"—Colbie Caillat
This song is pretty obviously on-theme. With a chorus that continually repeats the refrain "You make me want to say I do, I do, I do do do do do do do…" it perfectly captures the upbeat side of love and is ready to proclaim it.
Caillat sings of finding someone who feels like her other half for the first time, and how now she loves them and is imagining their life from here on out—first with an "I do" and then with a family.
This is the perfect upbeat and optimistic song to kick off both a party and a marriage.
7. "Perfect"—Ed Sheeran
This song hasn't quite been around long enough to make a huge splash in the wedding scene, but it's so tender and beautiful and, well, perfect for this type of ceremony that we're expecting for it to be pretty popular in upcoming wedding.
While the original song just features Ed Sheeran, we've listed the version with Beyoncé because, for one, Beyoncé, and because the adaptation of this song as a love duet is absolutely lovely and perfect for a new couple expressing their love together.
This is one of the slower and more intimate songs on our list, so if you're looking to imbue the cake cutting ceremony with meaning and depth, this is a great choice.
Of course what would a wedding playlist be without the queen of romance herself? "Today Was a Fairytale" is real old-school Taylor Swift, still filled with her old pop-country style.
It's a very sweet song, as she sings how the "you" in the song makes her feel love like out of a fairytale. This is very appropriate for a wedding, when everything seems unreal and even a little magical.
This would be an especially great song for a themed wedding that wants to play up any magical and whimsical elements. The sweet nature of the song is also perfect for accompanying the sweetness of cake.
9. "Sugar"—Maroon 5
This is another one of those songs that newlyweds like to use as a cake cutting song to play off the sugar and sweet emphasis in the lyrics. With loud exclamations of "Sugar! Yes, please!" the cleverness of the choice will not be lost on your guests, and the fun nature of the song is perfect for dancing around and goofing with your partner as you cut the cake.
This song has had wedding ties since its launch. Maroon 5 toured the song all over weddings in LA, reaching as many of them in one day as possible as a surprise to the new couples. Just like in the video, this fun song is sure to get your guests on their feet and having fun.
You can never go wrong with Michael Bublé. His charming style of pop blended with jazz and swing that's reminiscent of Frank Sinatra is great for any occasion.
In his song "Everything," Bublé sings of how the song's subject is everything to him, from love songs to a wishing well, fulfilling everything he needs in life. This is a wonderful message of love to share with your new spouse and display to your wedding guests.
The song is just the right amount of fun and sincerity to perfectly capture the tone of a wedding.
Final Words
Picking perfect cake cutting songs is more important than people often realize. It's the backtrack to the first action that you take as a new married couple, so you want it to be something memorable.
Themed songs can be a fun and memorable way to go, whether you're matching the theme of cake or another theme that matches your wedding. In terms of general love songs, both upbeat and slow are great options that can characterize the moment any which way you choose.
When it really comes down to it, though, pick the song that best represents the relationship between you and your partner and your journey together.
Many of the songs on this list speak of the past and how love has grown, but many others focus on the future. Both are valid routes to focus on and will make your cake cutting ceremony more memorable than you could ever have imagined.